August 2007 Part One
Pictures for the first part of August: http://smg.photobucket.com/albums/v299/sailormomma/August%202007/?start=0
August was an extremely busy month for us this year, so I'll have to break it up into 2 entries. This was the first year that we were home when the Blue Angels came into town, so we had to make a trip down to Lake Washington so Zak could see them. He loves anything to do with airplanes and has loved the Blue Angels pretty much from birth, so it was a very special day for him. I have to admit, I had fun, too!
Then we set out for Poulsbo for our annual Latitude and Attitude's Cruiser's Party. On the way over we met up with our friends, Bob, Shari, Sydney, & Annie (and of course Tabor) aboard S/V Pearl. It was the first time we have been able to sail together, so it was absolutely wonderful having both boats together.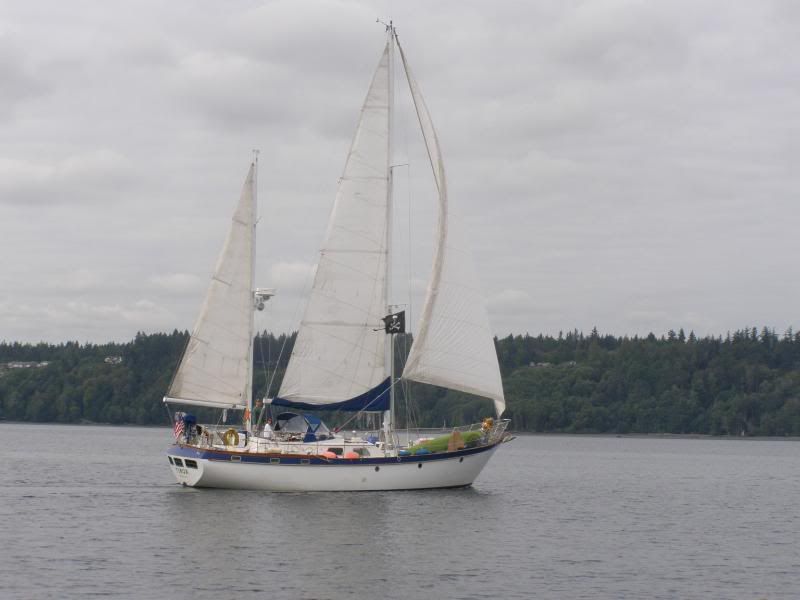 When we arrived at the dock at Poulsbo there were quite a few Lats and Atts boats already there. The kids didn't waste any time getting on the dock and checking out the sea life:
They found nudibranchs (I had never heard of these creatures, but Zak assured me that was what they were), fish, eals, and even this cool little starfish:
The party was great! Friday night there was open-mike night on the dock and Dave Calhoun played some great trop-rock jams. The kids really got into it and started dancing on the pilothouse on Ghost:
And once it was dark we had movies on the mainsail of Ghost. This has been something that we have done for the past 3 years and it's usually a hit. Once again on my night (Ang's), we watched Captain Ron. Scott and I take turns. One night we take care of the movies and the kids aboard Ghost and the other we get to go out with our friends and enjoy the adult scene. It works o.k., but hopefully one of these years we can hang out together.
Saturday was full of activities. The kids enjoyed dinghy rides with Big John, a pinata, waterfights, and a treasure hunt ending with a treasure chest full of toys: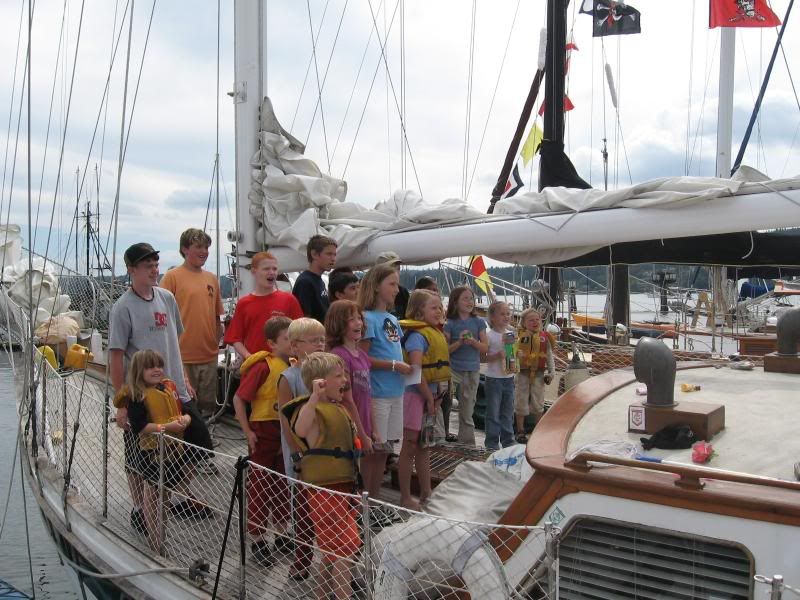 And the adults enjoyed blind-folded dinghy races, a potluck on the dock, and the big annual Lats and Atts party with Eric Stone and raffle drawings. It's such a fun weekend for the whole crew. It takes about a week for us all to recuperate afterwards, though.
On Sunday we enjoyed a leisurely sail back home with S/V Pearl close by. This was the first time that Bob & Shari and the rest of the crew were able to attend the Lats and Atts party, so it was so much fun having them there with us.
Later in the week Lady Washington and the Hawaiian Chieftain showed up at our marina: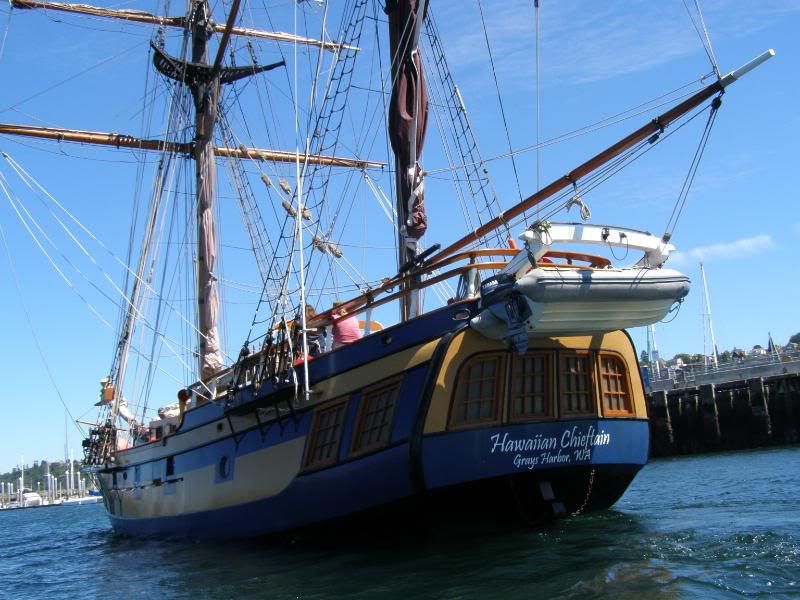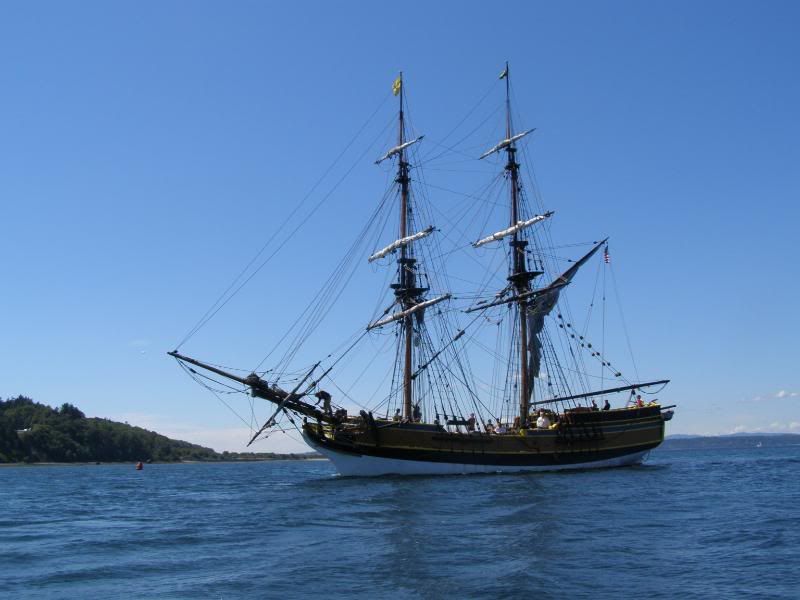 The are both such beautiful ships and it's always fun seeing pirate ships!
To round out the first half of August, the kids and I went to visit Grandma & Grandpa (Scott's parents) in Long Beach, WA. The annual kite festival was happening and it was such a great time. I never would have thought kites could be so much fun! I think we are going to have to make this an annual event to attend: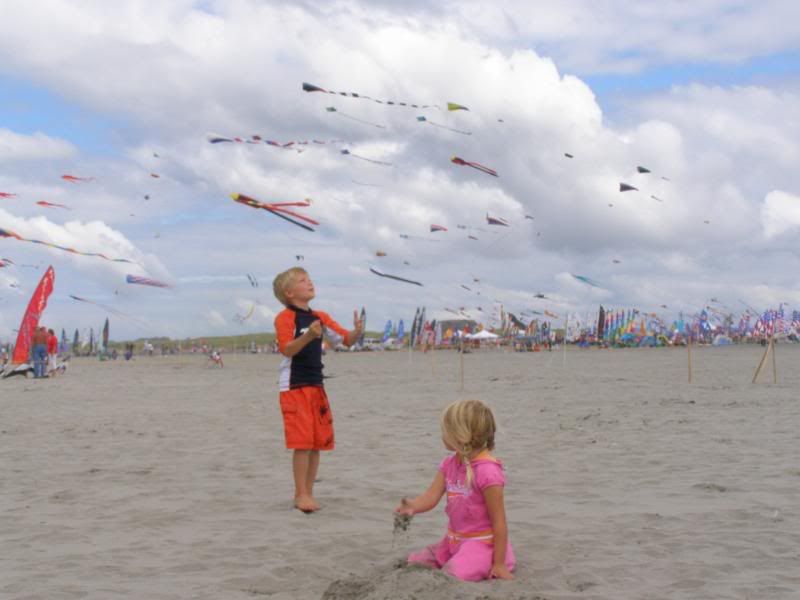 The day after we got back we headed up to meet S/V Pearl in the San Juan Islands. This time we didnt' take Ghost. It was our turn to be the guests aboard Bob & Shari's boat. More to come on that later. Hope everyone is doing well!