December 2008
The first part of December, the kids and I took a little adventure trip to Whidbey Island. The goal..... to go beachcombing. Since we were headed that way, we decided to see if Big John & Trish from Beachcomber Charters in Cornet Bay were around. It was so great seeing them and it was a good thing we made alternate plans, because I forgot to check the tides and it was high tide during the time we were there. Zak & Ellie loved meeting John's pet snake and the geese in the front lawn: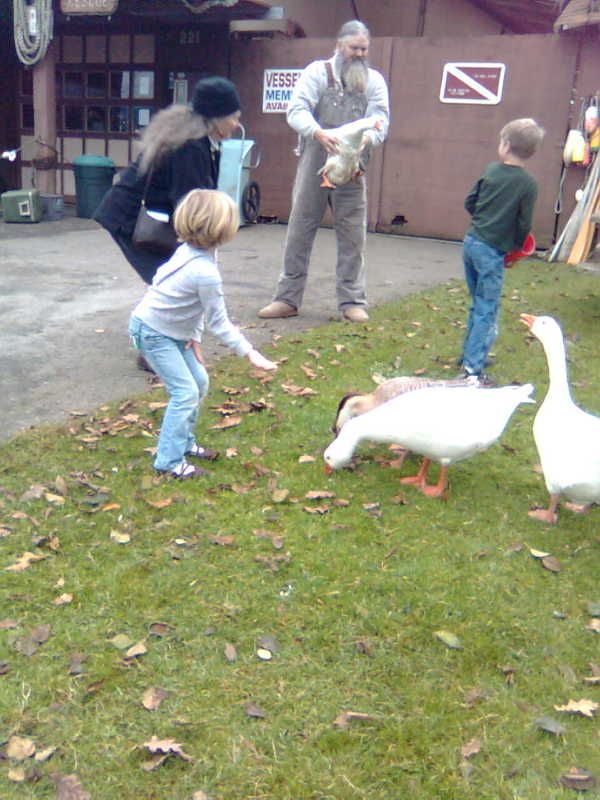 Trish took the kids and I to a Holly Farm that she works at and they took a picture of us: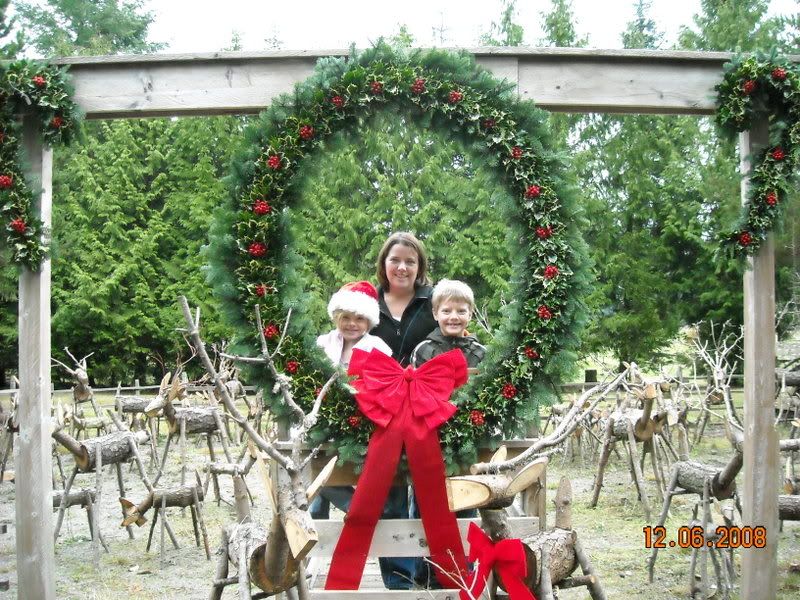 It was a great place, and I bought a candy cane wreath that I absolutely loved. After having some lunch at John & Trish's we went to my co-worker Colleen's house in Mariner's Cove on the Island. We decided to take a walk on the their beach and at least get a little beachcombing in. The kids had a blast with her dog, Jack, and we came home with some good stuff. Ellie even found a floating winch handle in pretty good condition. It was a great adventure and wonderful seeing everyone up there.
As many of you have heard in the news, Seattle was hit with a huge amount of snow and the city was pretty much shut down. Luckily we didn't get need to go anywhere or do much, so except for the kids being home from school, it wasn't such a big deal. It was kind of pretty on the boat: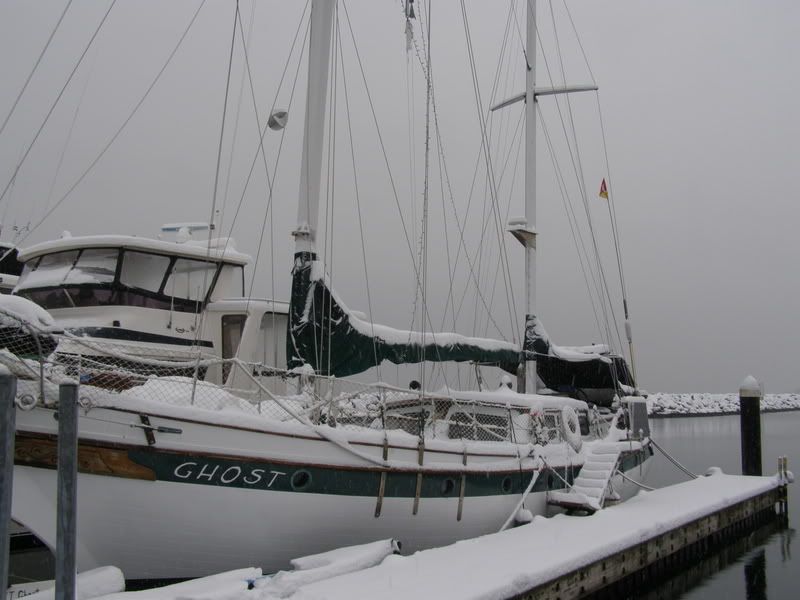 The kids even built a snowman: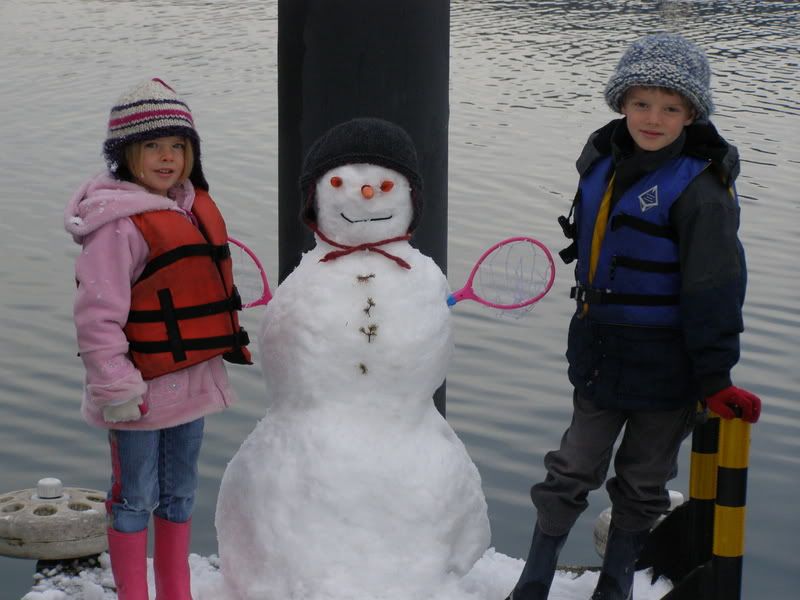 Last year around Christmas we started the "Dinghy Light Parade" with our neighbors and it was a big hit. This year we were planning on doing the same thing, but most of our neighbors couldn't get their dinghys unburied. Scott had boo all set up and we ended up not even going out. Bummer:
But we were invited to our neighbors (Nat & Linda's) boat for hot buttered rums. It was a great time: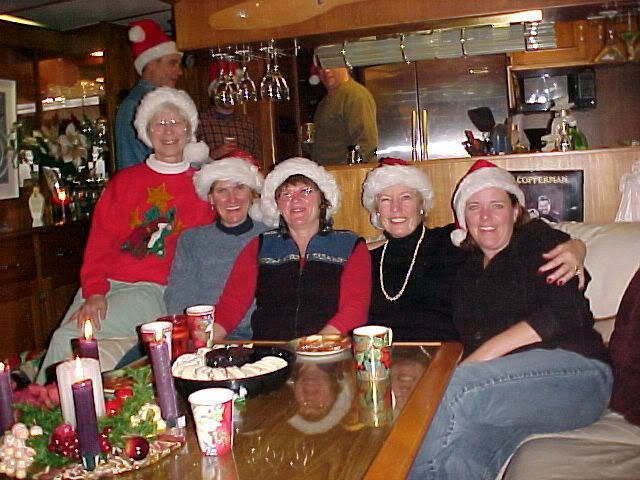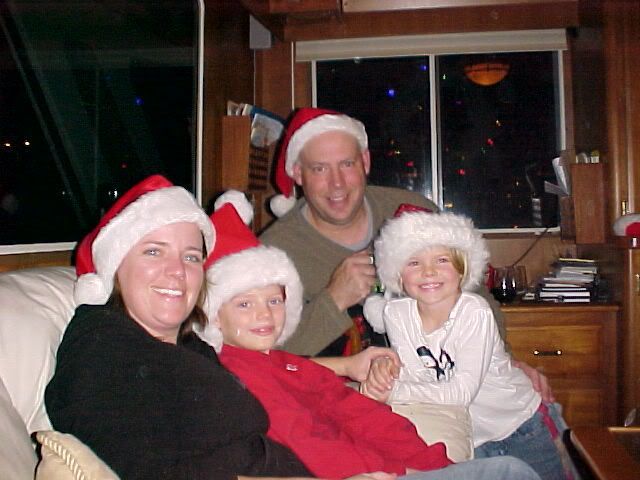 It's always nice getting together with the neighbors.
We spent a quiet a Christmas Eve on the boat. The kids were quite excited to open presents and have Santa come. It was a very nice evening. Santa came sometime in the middle of the night and the kids woke up to more presents and goodies. We then went to Bill & Heidi's (Scott's brother) for Christmas dinner in Maple Valley. Most of the snow had melted and turned into rain, but it was still snowing at their house. We couldn't make it up their driveway because of all the snow. It was a great day. The snow made it so beautiful. Heidi made a great Christmas dinner and then we headed home.
Hope all of you had a very Merry Christmas and Happy New Year!