August 2010 - San Juan Islands - Part Three
Our last week of the trip started after dropping our friends, Jim & Debbie, off at Roche Harbor. We stayed another night in Roche Harbor and enjoyed some of the conveniences of being in town (ice cream, coffee, grocery shopping, etc.) Our friends, CB & Tawn from Palarran, showed up and we enjoyed some time with them. The next morning we decided to head the short distance to Reid Harbor pretty early and as we were leaving the harbor, Scott and I both saw the fin of an Orca a short distance away. There were no other boats around, so it was a special viewing of a small pod right outside Roche Harbor:
It was beautiful and we knew that it was Jim's orca carving that made it possible
.
After the sighting, we headed over to find our spot in Reid Harbor. We were going to be there 4 nights, so wanted a perfect spot and we got a perfect spot on one of the floating docks. And these 4 days ended up being some of the most memorable 4 days we've had at Stuart Island. CB and Tawn showed up on Palarran and tied next to us:
The boys all headed out fishing and while they were gone, our old neighbors, Doug and Ruth aboard Angelique, came and tied up to the other side of the dock:
The boys caught 4 greenlings, so we grilled those up and combined food for another great dock party. We spent the evening hanging out in Palarran's cockpit. They took off the next morning, but Angelique stayed for another night. While taking a walk the day before with Fathom, the kids found a perfect place for another Fairy House, so the next morning, we gathered some special items to help create it and headed out for a Fairy House building expedition.
They even were able to explain to a few passerby's what they were doing:
It was a successful endeavor and we are excited to head back to see if anything is still there. After getting back to the boat, Ruth and I decided to take a walk to the lighthouse. I had a great time. While we were gone, Scott rigged up another boom swing for the kids:
They always have a blast with the boom swings. While I was gone another boat came to the dock with a boy around Zak's age, Kyle. They bonded and started kayaking, driving the dinghy, playing games, and swimming. After Ruth and I returned, we had a big social time on the dock with the other boats. The crew of Serenity, Bill and Karen were wonderful and provided all the kids (and adults) with smores, yummmm! Our neighbors, Frank and Chanda, showed up on Midnight Blue and came over to the dock to chat and see Fathom:
It was another great evening at Reid Harbor. The next morning Angelique headed out to Friday Harbor. We were waiting for our friends, Bob, Ingrid, Roscoe, and Skye to show up aboard their new boat, Adiamo. It was another beautiful day in the San Juans and ended up being a crazy day of "blasts from the past." Scott and Ellie took Fathom for a hike and as I was walking up on deck a family was getting out of their dinghy. I did a double take, because I knew that I knew these people, but it didn't fit. The last time I had seen these people was at the same dock, 8 years ago. They are friends of Jim and Debbie, who were aboard last week, and we had met up with them 8 years ago at the same dock in Reid Harbor, us in Ghost, and them in a charter boat named Resolution:
Ghost and Resolution on the dock 8 years ago:
Doug, Dee, and Family 8 years ago: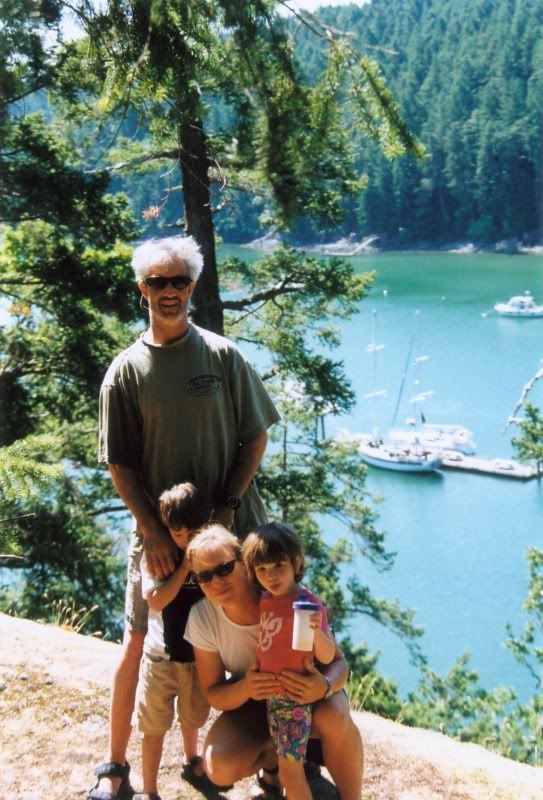 They were actually chartering Resolution again and once again the two boats were together. They couldn't get a spot on the dock, but they were on the closest buoy to the dock:
Unfortunately, this ended up being such a busy couple days, we weren't able to sit down and catch up with them. After that some people I know from work showed up on the dock and were suprised I knew their address. It's terrible when you know people by a number instead of their name. Then out of nowhere a dinghy comes up and the people start waving and out of the corner of my mouth I ask Scott "do we know them?" He shrugs, "I don't know". Come to find out it's our friend Bob"s (Bob & Shari from S/V Pearl) cousin, Steve and his new wife Kathy, who bought Scott's first boat the Pondo May from Bob & Shari. Then it dawned on us that they had to get to Reid Harbor aboard the Pondo May. So it was actually in the harbor. The boat that started it all. The boat we were on when we first pulled into Reid Harbor, introducing us to the San Juan Islands. They told us they were going to pull in closer and ended up taking the other buoy that was closest to the dock: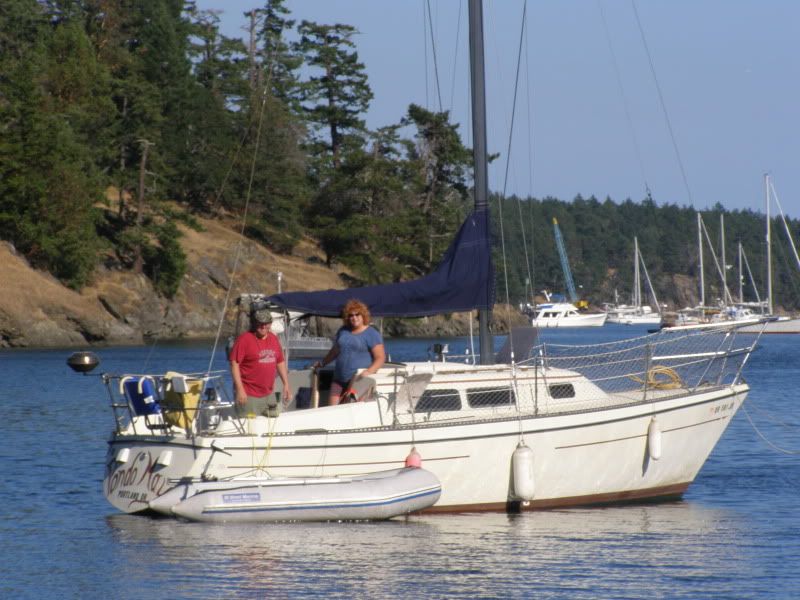 Scott and I headed over to check out the good ol' Pondo. So many memories on that boat. Scott was out chatting with Steve and I was chatting with his new wife, Kathy (they were on their honeymoon). As I was talking to her I kept thinking that I knew her from somewhere. Come to find out, her and I both worked as supervisors for Horizon Air at the same time. We always enjoyed talking to each other when we had conferences and meetings. She left the airlines around the same time I did. Small world. Crazy how some things work out.
So after all this, our friends on Andiamo showed up. This was their first experience cruising in the San Juans and they planned on hanging out with us for the rest of the trip. Their boys are the same ages as Zak and Ellie, so it was great having some other kids around to keep them occupied. We all enjoyed the afternoon: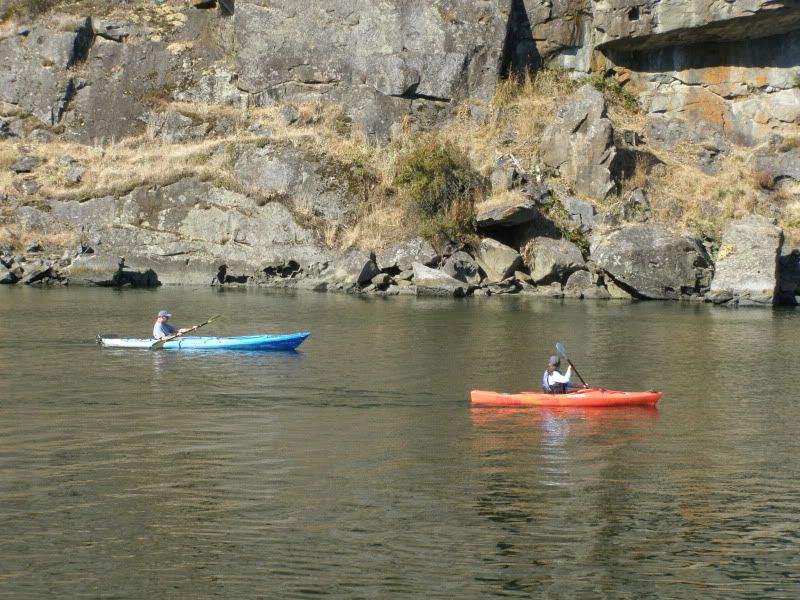 It was a beautiful evening and great to be with such great friends. The next day we planned a hike to the lighthouse. We wanted them to have the full Stuart Island experience. It ended up being a little gray, but perfect hiking weather:
We packed a snack and the kids went to work on Fairy Houses (yes, Ellie got these guys into it, too):
Another great Turn Point Lighthouse adventure. The next morning we headed out to Blind Bay on Shaw Island. Roscoe decided to ride with us and Ellie went on Andiamo. We put Roscoe to work:
Ellie and Skye had a great time on Adiamo:
As we were approaching Blind Bay, Palarran was just leaving:
Bummer that we missed them, but always great seeing their beautiful boat under sail.
We found our spot in Blind Bay and Andiamo tied up next to us. We packed up some supplies and headed to Blind Island for the rest of the afternoon and evening for a fire with hot dogs and smores for dinner. The kids had a blast having the run of the island: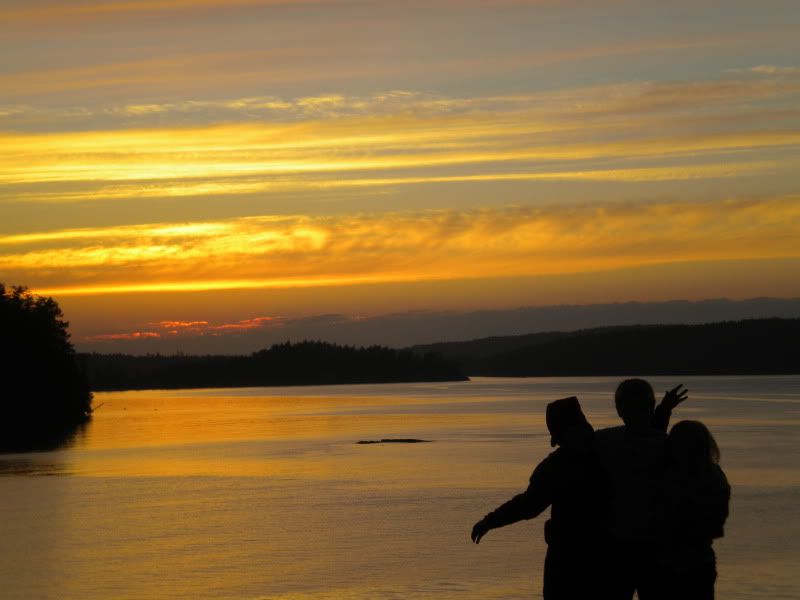 Experiences like this are how great friendships are made. It was another perfect day in the San Juans. How many times have I said that this trip?
The next morning we left early to make slack tide at Deception Pass, the plan being to pull into Cornet Bay for the night. Andiamo took a great picture of Scott tying Ghost up:
We made it to Cornet Bay pretty early in the day and had the rest of the afternoon to explore the park. We took a nice hike to the beach on the north side. Ellie and Skye picked flowers on the way:
And then Fathom ate them.....oops. We did some beachcombing and just sat and enjoyed the beach:
The crew of Andiamo got a great family picture with Deception Pass in the background:
Zak finally found a snake (with Fathom's help):
And we enjoyed another great evening on the dock with fabulous friends:
Our last night of vacation. Do we really have to go home? It would have been nice to stay another couple months, but unfortunately it was that time. The next morning we headed out early to catch the tide home. Andiamo left a bit later and took a great picture of Ghost while passing us:
It was so great getting to know Bob, Ingrid and the boys better and showing them how wonderful it is to cruise in the San Juan Islands. Can't wait for more cruising with them in the future. Another year of cruising in the San Juans was coming to an end and like always I was a bit sad. I love the islands and it's really hard to leave them. The kids felt the same way, but it's time to get back to reality and the season for school, soccer, and work is upon us.