August 2010 - San Juan Islands - Part Two
Pictures from this part of the trip
For the next part of our trip we brought the Beaty family aboard. Jim, Debbie, & Danielle have cruised with us since the beginning. They were with us on our very first trip to the San Juans aboard the S/V Pondo May. We left Friday Harbor and headed to Stuart Island. Reid Harbor is one of our favorite spots and we couldn't wait to get there. We anchored out the first night and woke up to rain the next morning. We had planned on going on a hike to the lighthouse, but it was pouring, so we decided to stay in and play some games. It was so nice. A little later we saw that there was an opening on one of the floating docks, so headed in to grab the spot while we could. It's great for the kids and dog: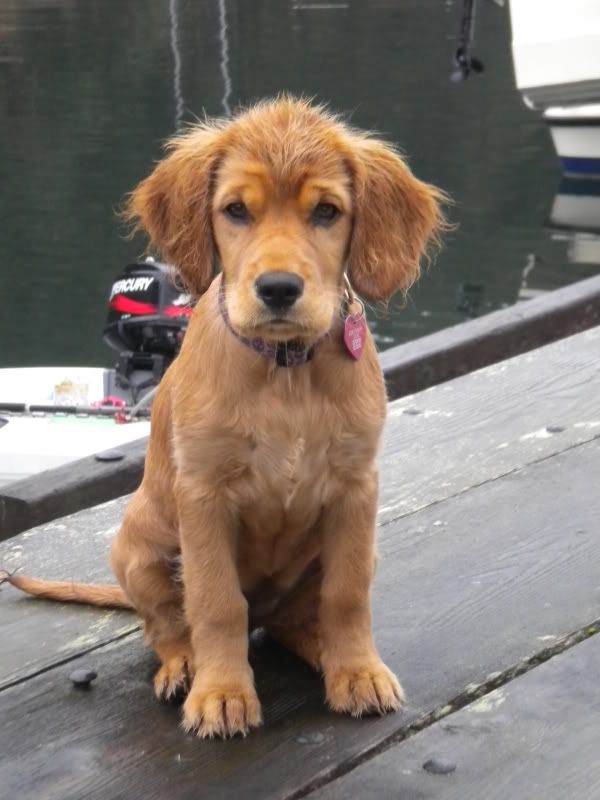 We had caught some crab, so ended up having a crab feast on the dock. It was a little drizzly, but perfect: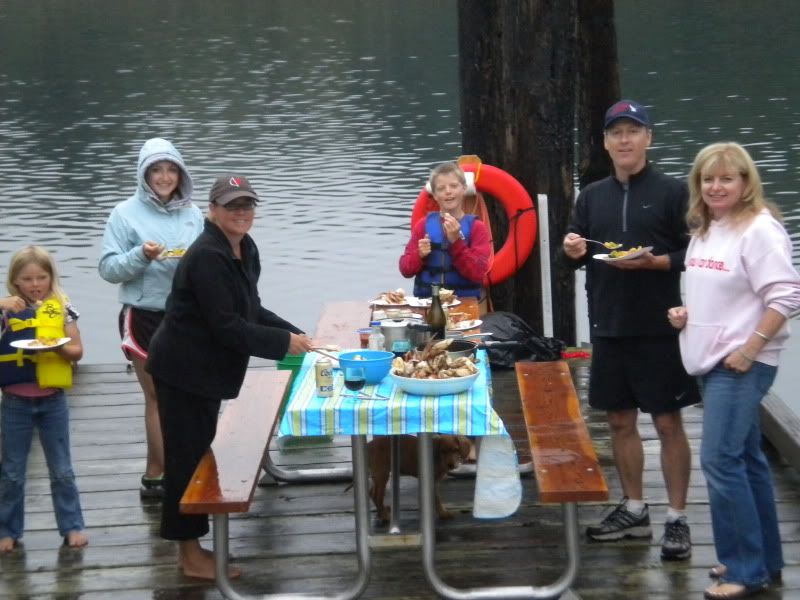 The next day we decided to take our walk to the lighthouse. The weather was great. Like all the times we head to the lighthouse we have to stop at all the little landmarks on the way. There's the swing: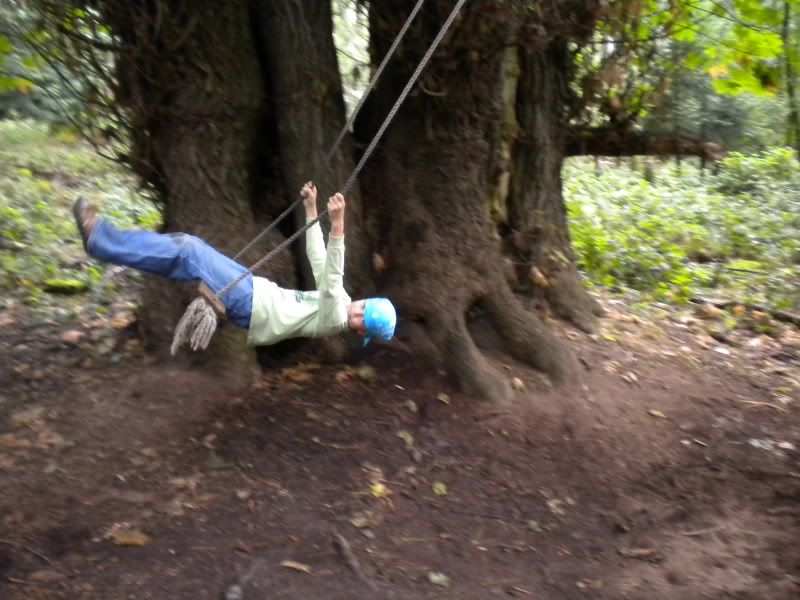 The schoolhouse and then the cemetary (didn't get pics of those). The treasure chest of T-shirts from Stuart Island:
The old broken down Jalopy that we make stories up about: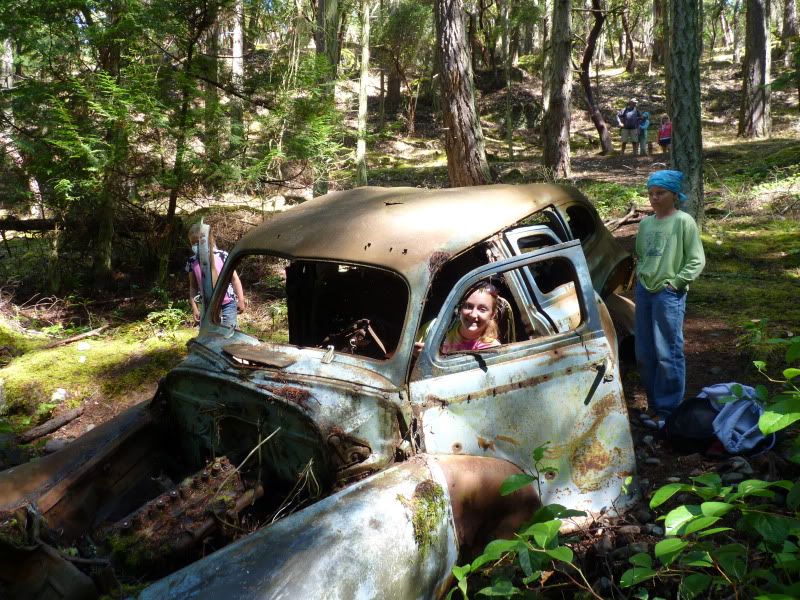 And then we go down a long windy hill and we are there. I probably missed some of the stops, but it's so fun for the kids to look for each landmark along the way. It sure makes the hike seem to go by quicker. When we turn the corner and see the lighthouse, it always makes me so happy:
We had a great picnic lunch sitting in the grass and just enjoyed hanging out and looking for whales: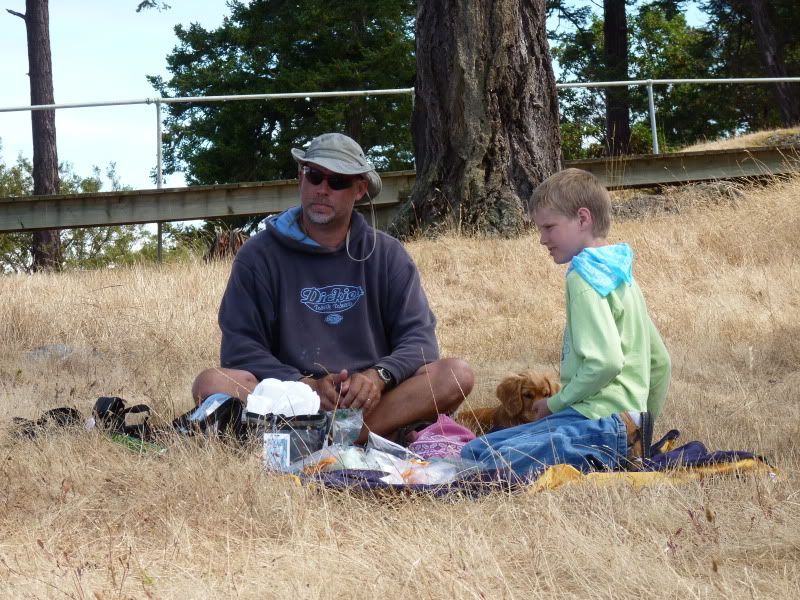 No luck on the whale front, but it was such a great day! Fathom did great on the hike, but was one tuckered out little pooch. When we got back to the boat, Scott hauled Jim up the mast to fix a halyard that had come off it's track and we all enjoyed some time on the dock: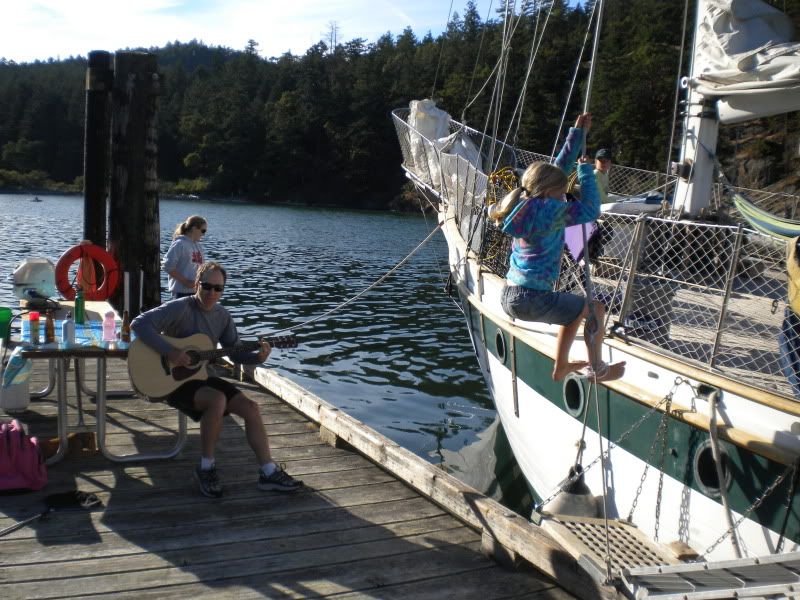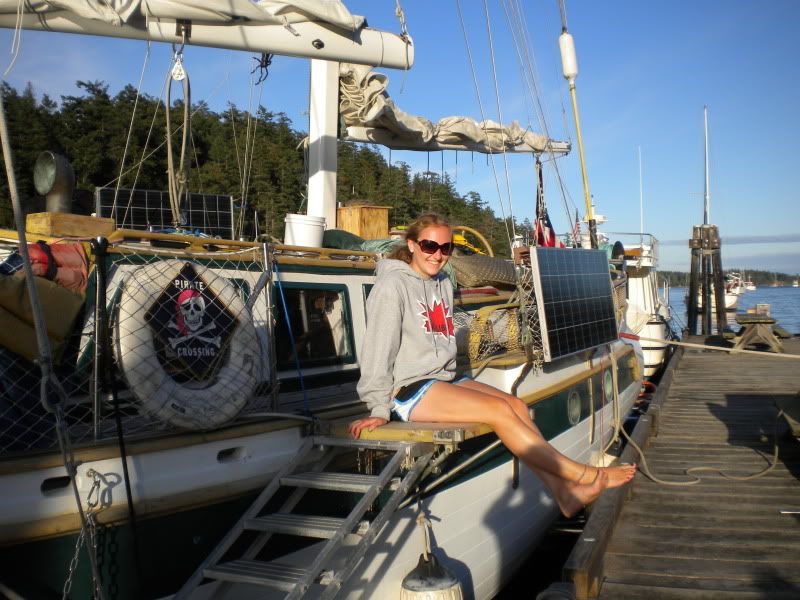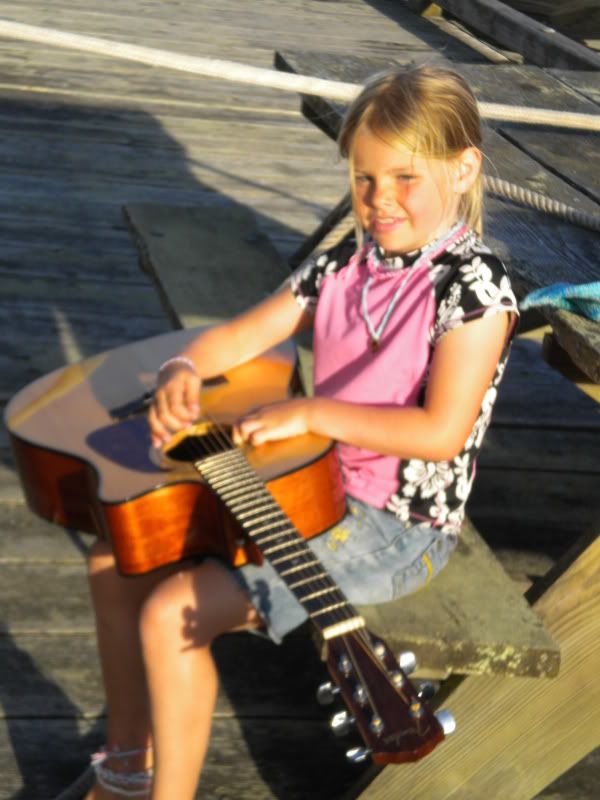 And we enjoyed another great dinner on the dock that night:
The next morning we headed out to Friday Harbor. We headed around the south side of Speiden Island to see if we could see some wildlife and weren't dissapointed:
Antelope or some type of exotic deer: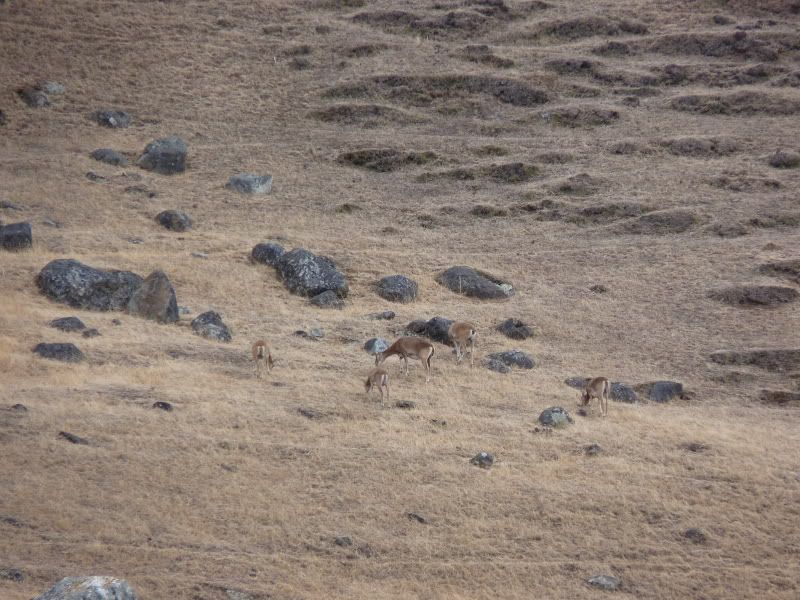 Big Horn Sheep: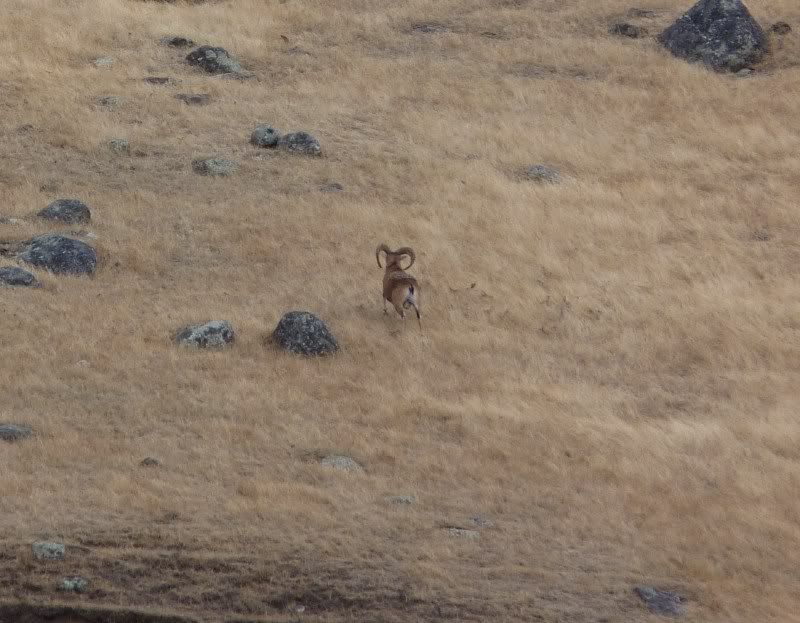 Some other type of sheep or goats - not really sure: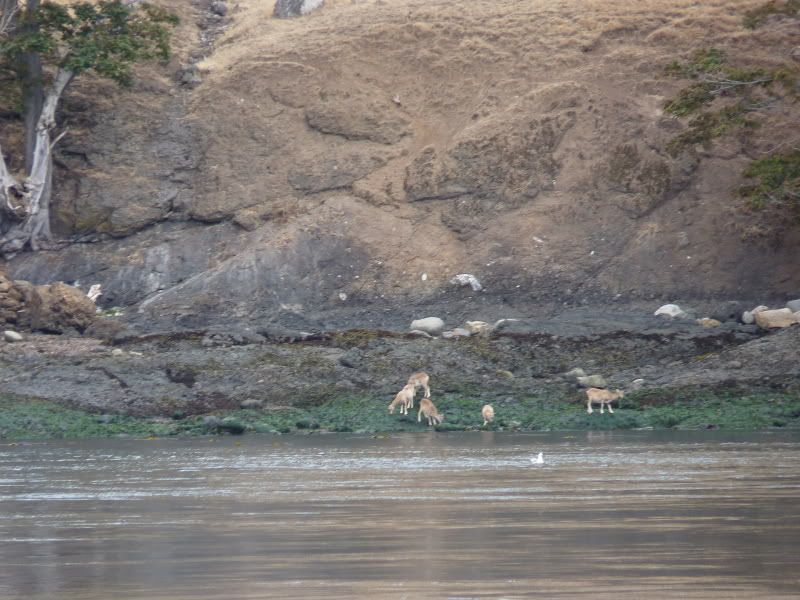 It's always amazing to see the wildlife on the island. In the 70's wild game was imported to the island for big game hunting. They no longer have the hunting there, but the exotic animals are still there. Kind of fun to see what you can spot whenever traveling past. We also sent out a message in a bottle in San Juan Channel.
We headed into Friday Harbor to catch up with some of the crew from Latitudes and Attitudes. They were doing a share the sail charter and we were able to catch up with them. It was kind of a rainy day and we took it easy. Spent the evening playing Dread Pirate and were able to provision for the rest of our trip. The next day we headed out to Matia Island. It was a beautiful day and Scott even created a boom swing for the kids while we were underway. They had a blast: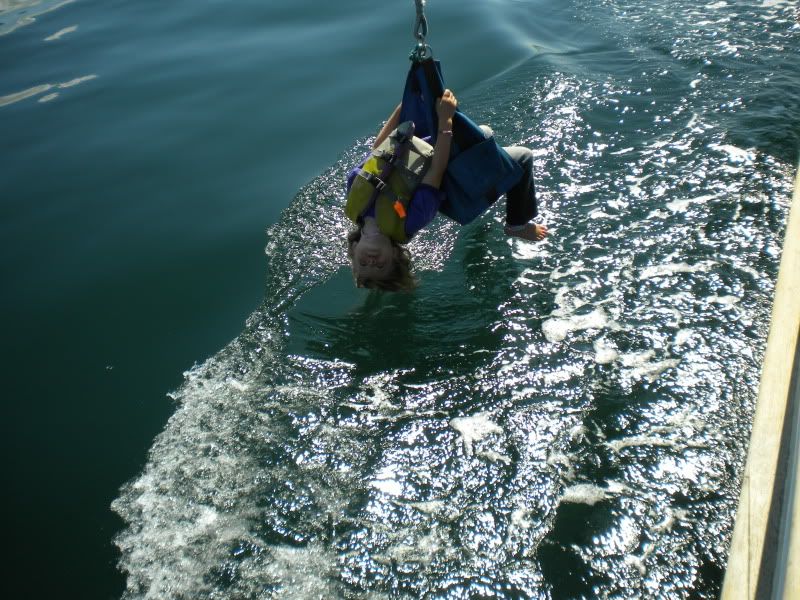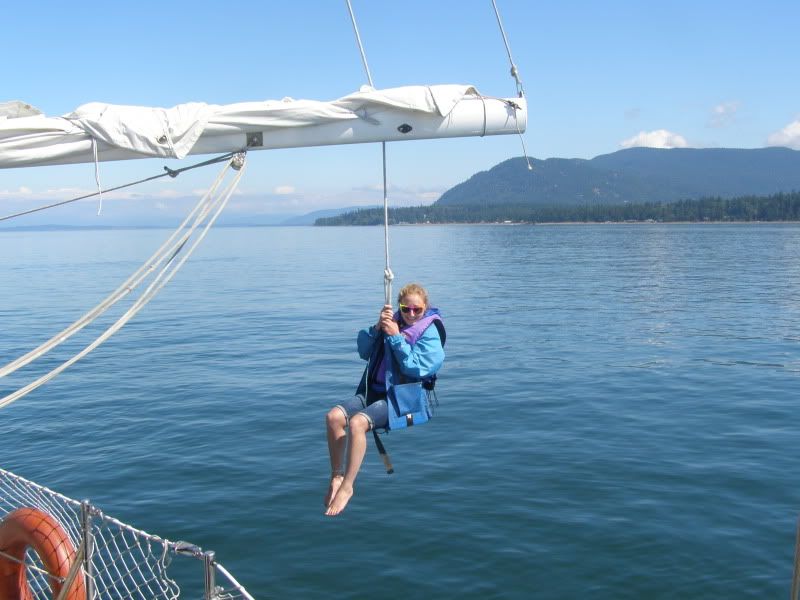 We were lucky to find the cove next to Rolfe Cove was empty. Scott headed out in the dinghy with the hand held depth sounder to see if we could fit. We planned to stern tie and would have the whole cove to ourselves. Jim was designated to take the stern line ashore: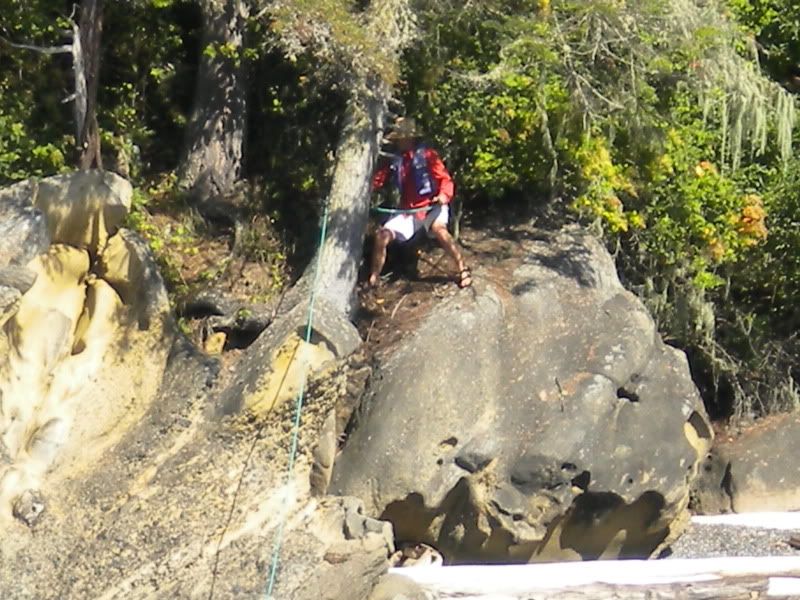 I was at the helm and Scott took care of the anchor: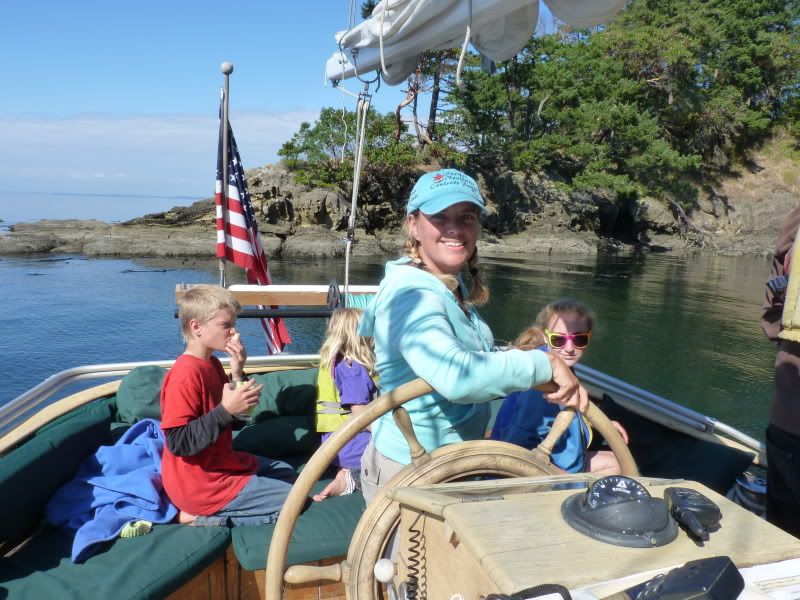 We all worked great as a team and got a perfect spot for Ghost and her crew:
The fishing poles came out and it wasn't long before they caught some fish: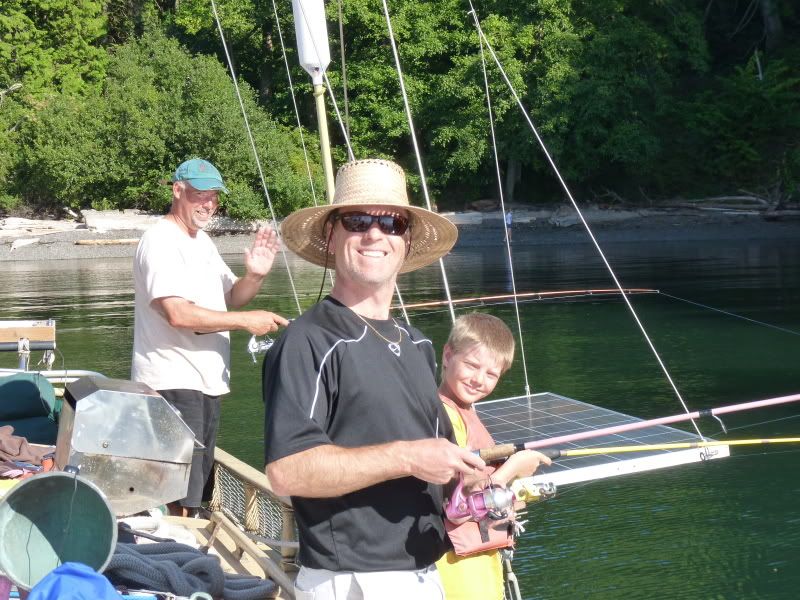 Everyone went off and did there own thing. There was kayaking, fishing, beachcombing, swimming, and just relaxing. It was perfection. And then we got a perfect sunset, as well: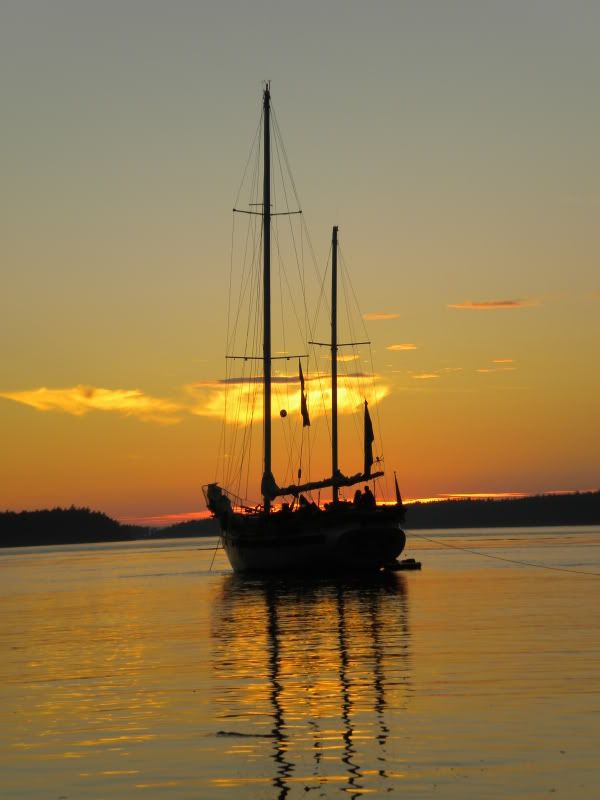 The next day was spent doing pretty much the same thing. Unfortunately the island is a nature preserve so we couldn't take Fathom on the beautiful trails on the island, but we had fun hanging out on the beach. We probably could have spent a week at this spot that we now name "Fathom Bay", but the winds were going to change and we needed to head over to Echo Bay to be a little more protected. The boys took a fishing trip one of the mornings and did pretty good bringing home 6 greenlings: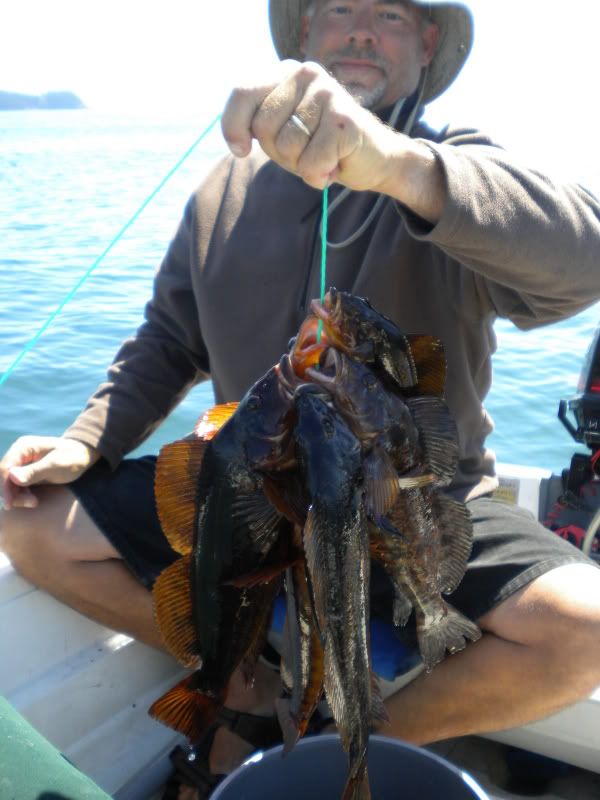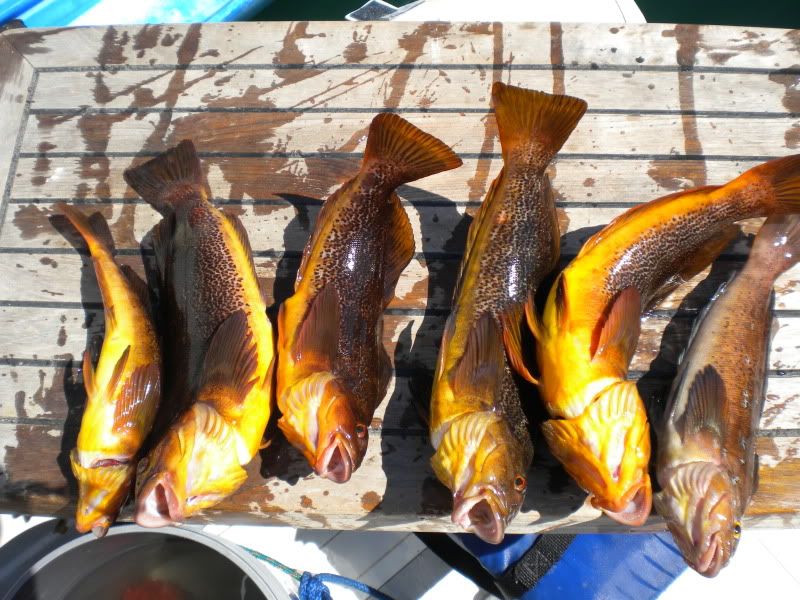 That night we had fish tacos and crab for dinner. Not too bad. Every day keeps seeming to get better and better while we are out. That evening our family took Fathom for a walk and actually got a family picture: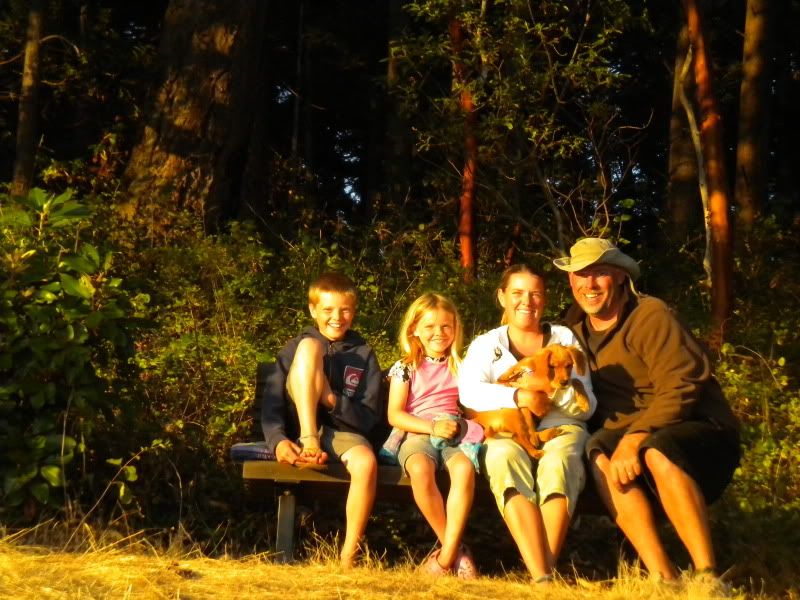 And the kids and Fathom walked around the Chinaman Caves. These are amazing:
The next day we packed a lunch and headed to Fossil Cove to check out the beaches on the other side. Fossil Cove is definitely different from Echo Bay. It's seems kind of posh and fancy over there. Nice new docks and amenities. We had a great time hanging out on the beach and checking out the mushroom rocks: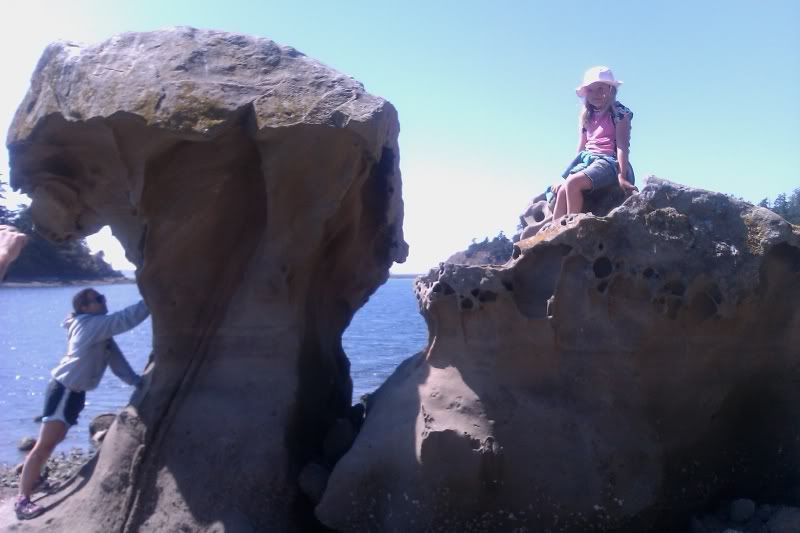 Fathom even met a new friend. This pup was 9 weeks vs. Fathom being 15 weeks:
Makes me a little happier knowing that she is going to be pretty small. I was starting to worry that she was going to be bigger than we thought.
When we got back to the boat, the wind was blowing quite hard. Jim and Danielle were in the kayaks and as Jim tried to board Ghost, he lost his camera overboard. Such a bummer. They had so many pictures of this trip on their camera. The boys tried to snag it with the fishing pole, but no luck.
One piece of good news was that we had a message from some people who found our message in a bottle we had sent out a couple days before. This is what they wrote in our guestbook:
Hello! I live in Friday Harbor, Washington and today while me and my family were relaxing at the beach my 5 yr old son found one of your messages in a bottle. It was really fun! He was really excited about it and definetly made his day! Thanks for that! I hope you guys keep up the fun!
Thanks again!
Sooo Cool! That made our day. Still sad about the camera, but what could we do?
The next day we headed to Roche Harbor. The kids all put together some more messages in a bottle and sent them out: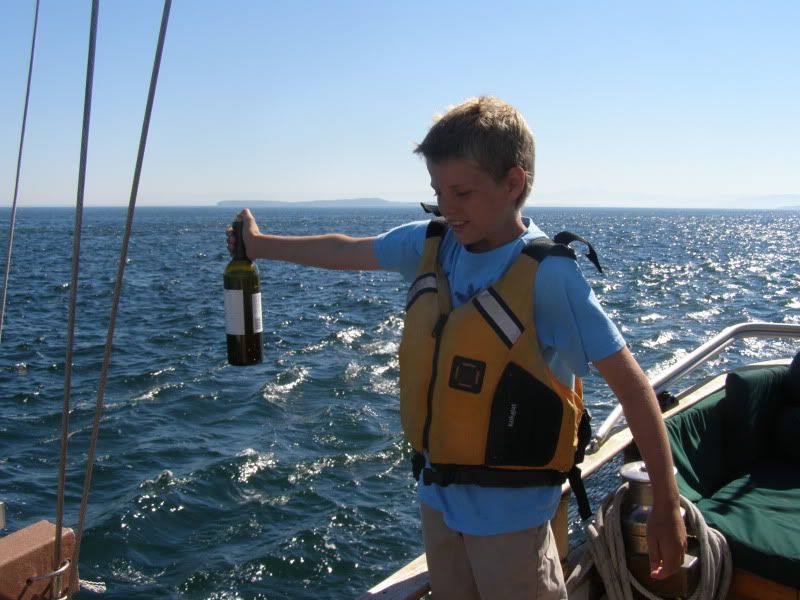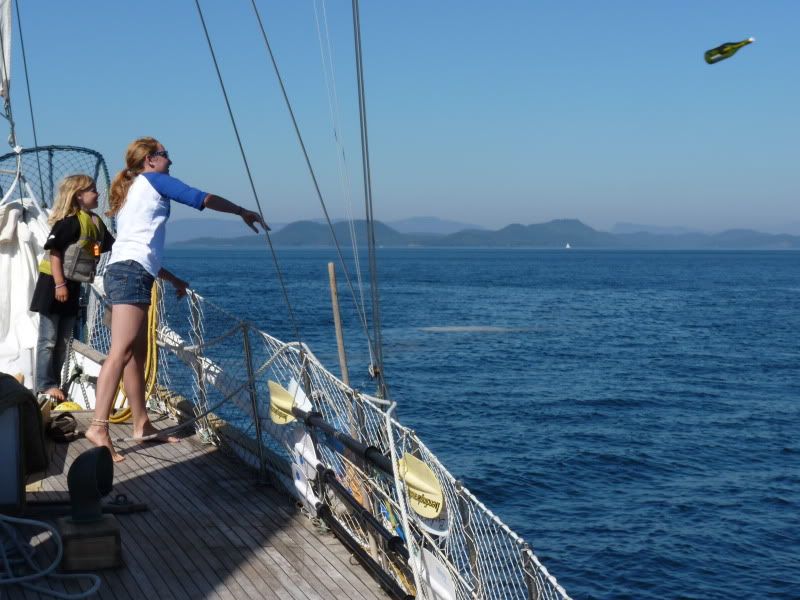 They had so much fun doing that. As we were sailing past Turn Point Lighthouse on Stuart Island, Scott spotted the orcas heading our way. The excitement on the boat escalated and there we were in the middle of a pod of orcas: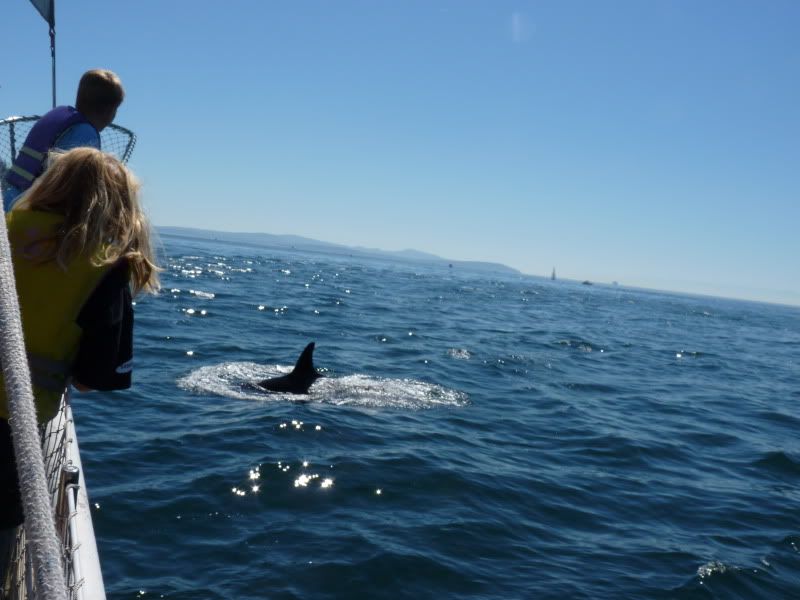 They are such magical creatures and to have them so close is so amazing. Jim had just finished carving an orca out of driftwood and decided it was our good luck charm, so he gave it to us:
It's a perfect addition to Ghost. What a great afternoon, but we still had more to come. We anchored in Roche Harbor. There was no wind and it was probably around 90 degrees. It was beautiful, but hot. The boys decided to take a swim:
We also set out the crab pots because the plan was to have crabcakes for dinner....yummm! Ellie wanted to clean the crabs (you go girl!):
We spent a nice evening looking at pictures of the trip and then said goodbye to our guests the next morning. It was such a fabulous time with the Beaty's it was sad to see them go.