San Juan Trip/August 2007 Part Two
Pictures from the second part of August: http://smg.photobucket.com/albums/v299/sailormomma/August%202007%20San%20Juans/
This year our sailing trip to the San Juan Islands was aboard our best friends boat, Pearl. We have always been up there on our boat with them visiting, but this year we worked it out so we were able to visit them aboard their boat. It's definitely different being a guest. We headed up Friday August 24th. It was fun taking the ferry over to Friday Harbor. We kind of miss that and have plenty of memories of that ferry ride from when we lived in Friday Harbor 7 years ago. As soon as we rounded the corner into the harbor we spotted Pearl tied to the dock. Bob, Shari, and the girls were waiting for us to get off the ferry and everyone was so excited!
We headed over to Reid Harbor that night and found a spot at one of the small floating docks in the middle of the Harbor. It's so nice to be at one of these docks. The kids can play and fish and it gives everyone a little extra space in tight quarters. The next morning we woke up, made lunches, and headed to Turn Point Lighthouse. It's quite a hike, but all the kids did great! Right before getting to the lighthouse some dock neighbors informed us that we had just missed the whales. Bummer! The orcas usually do their hunting in the waters by the lighthouse and if you time it right you get to see a beautiful show. It always seems like we just miss them.
The next morning we woke up and headed out to Patos Island, one of our favorites. It's a hard place to get into (usually full), but luckily we managed. We headed ashore and decided to go beachcombing (yahoo!). Ellie, Shari, and I found a pretty cool beach and Ellie comes up to me and says: "Mommy, I found two things. I found this apple and I found this: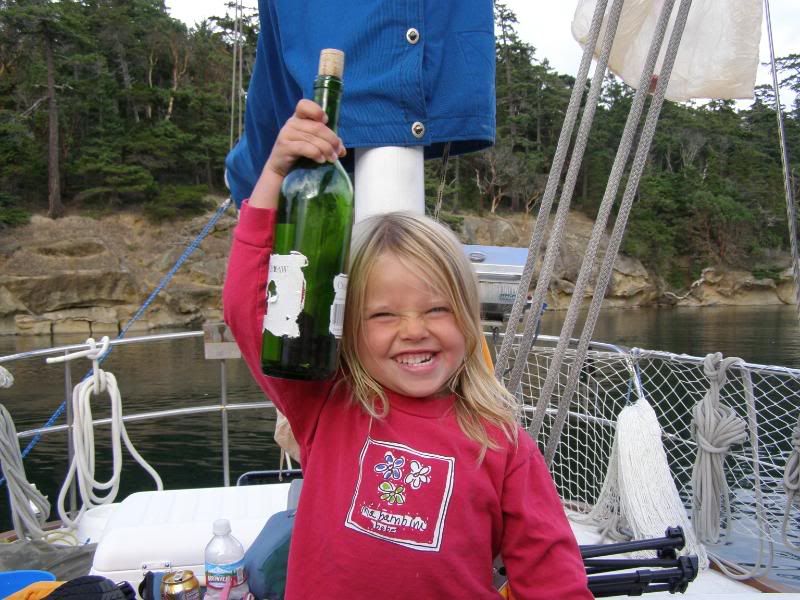 I couldn't believe it. All my life I have wanted to find something like this and my 5 year old daughter did. I have to say I was jealous! We decided not to open it until we were with everyone. We got back to the boat and opened it up. We were a little bummed when the note didn't even have a date on it. All it said was: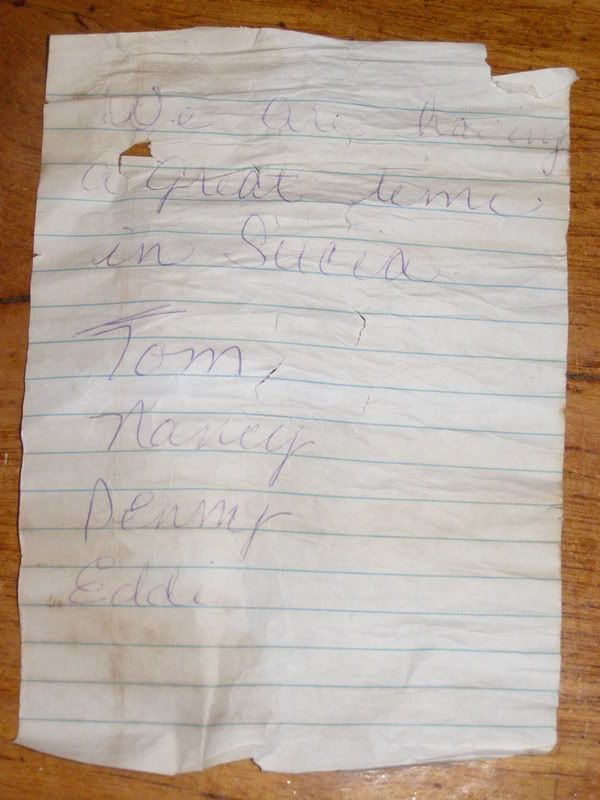 If you can't read it, it says: "We are having a great time in Sucia, Tom, Nancy, Denny, & Eddie." It's still a great find and one we will treasure. The next morning we woke up and decided we were going to spend the entire day on the island. We all went ashore and played on the beach, did some beachcombing, fishing, hiking, pretty much whatever we wanted to do. It was great! The kids built a great little home for themselves up in the rocks:
Everyone played hard and slept really good that night. The next morning we did a "Dawn watch" to Jones Island. It was pretty crowded, but since we got there so early, we had time to wait for someone to leave. We got a great spot and Bob & Shari were able to test out stern tying for the first time. Once again, we all piled ashore and spent a lazy afternoon at the beach: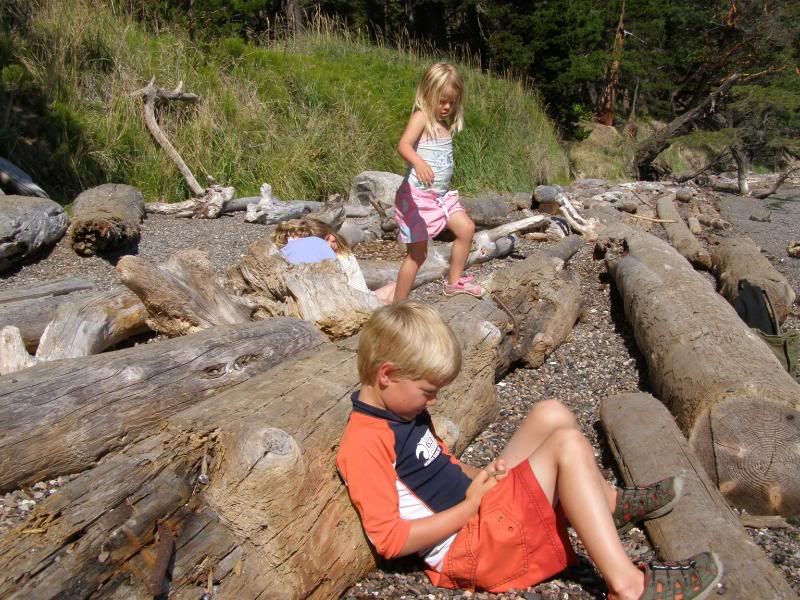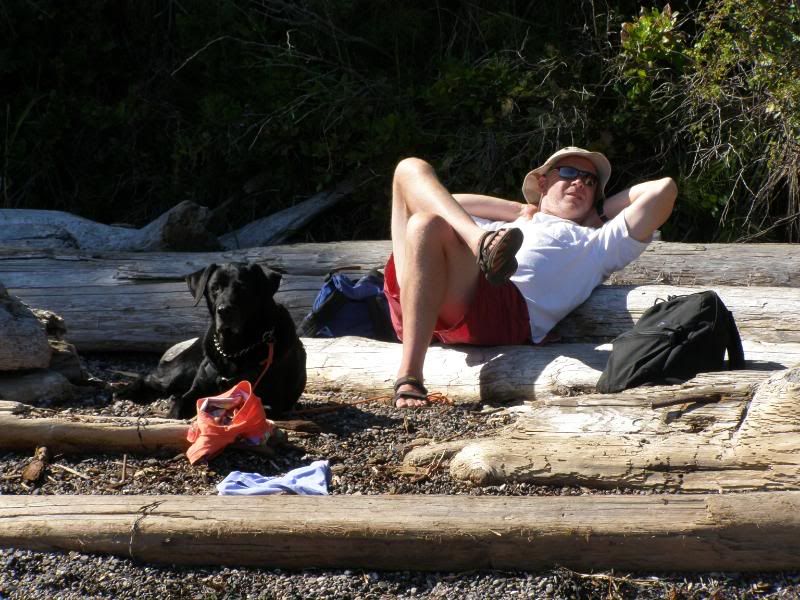 This is the life. Later that evening we decided to do a cookout ashore. The kids love having hotdogs and of course, smores. It makes them feel like they're camping: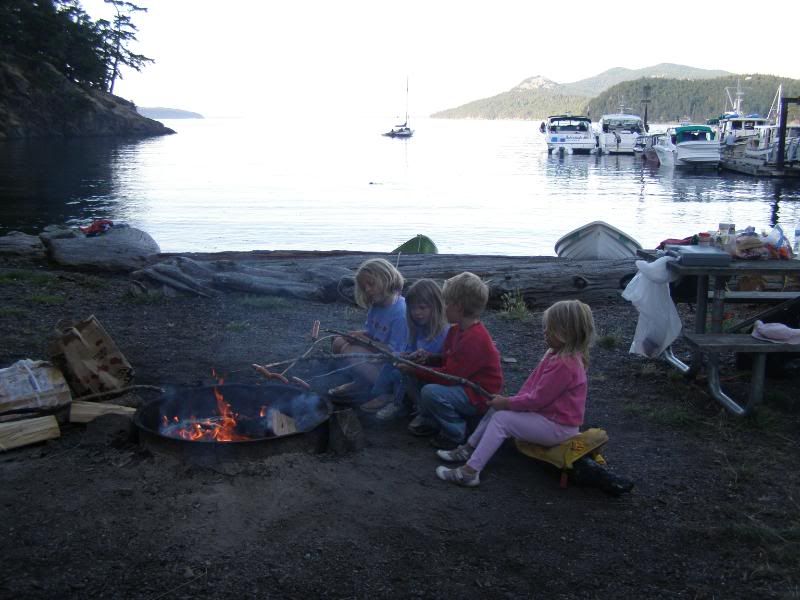 The next day was our last day/night with the Buelt family. We decided to spend it in Friday Harbor. Bob and Shari got a slip in the marina. Shari and I were able to go browse around town for a little while, which was wonderful! The kids and Dads spent the day fishing and shrimping on the docks. We saw quite a few boats we knew from our marina in Seattle and spent the evening sitting on the dock. The adults did some jamming with their guitars and the kids did some nighttime shrimping: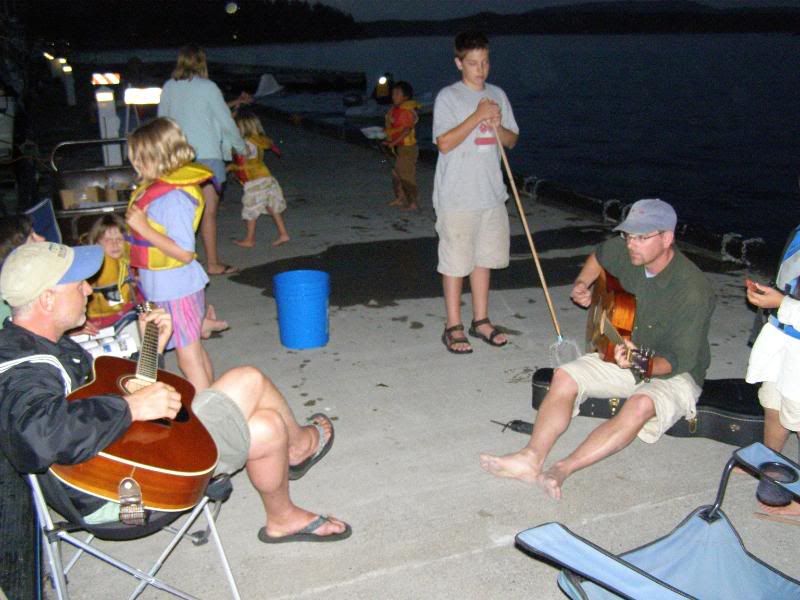 What a great ending to an absolutely wonderful trip! Thanks Bob & Shari for such a wonderful trip! Here's a picture of Pearl on our last night with the moon rising overhead: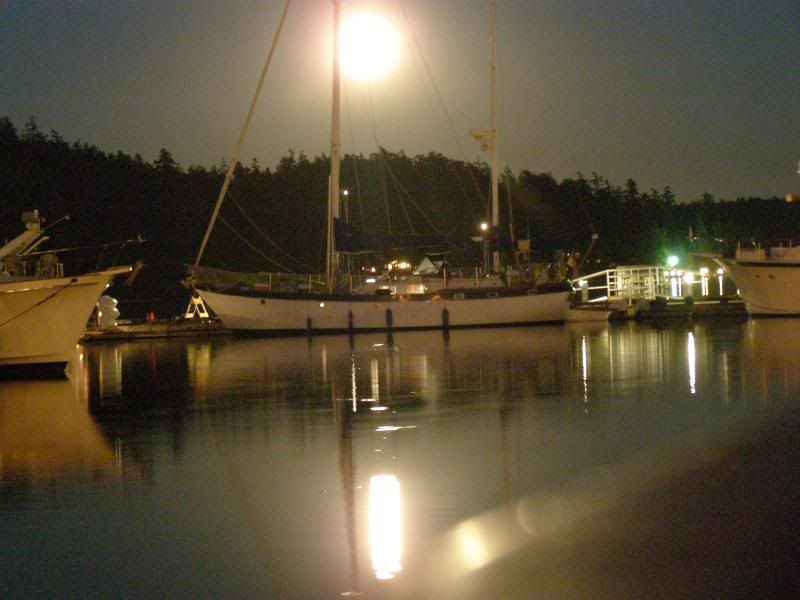 One note that doesn't have to do with the trip. If you are having problems viewing past photos, I am working on the problem. My previous photo website provider decided to shut down, so I'm trying to find something else that will work for us.
Hope everyone is well!