September 2007
Pictures from September 2007: http://smg.photobucket.com/albums/v299/sailormomma/September%202007/
September....... I don't think I even remember what happened during the month of September. We have a couple of pictures to remember a little, but otherwise it was so busy with everyday stuff that it just flew by. First off, Zak started 1st grade and Ellie her last year of pre-school. Ellie was pretty upset that she wasn't going into kindergarten, but was happy to be back with some of her friends from last year. Our daily routines got back on track and the coolness of being boat kids was soon realized again about a week after school started. Walking down the dock, headed for school, we spotted this guy hanging out on the dinghy dock in front of our neighbors boat:
Later in the week he decided to hang out right in front of our boat:
See him back there, hanging out! The kids weren't being quiet either. He didn't seem to mind. That same day while taking pictures of the seal, we looked over the breakwater from our boat and saw our friends, CB & Tawn aboard Palarran: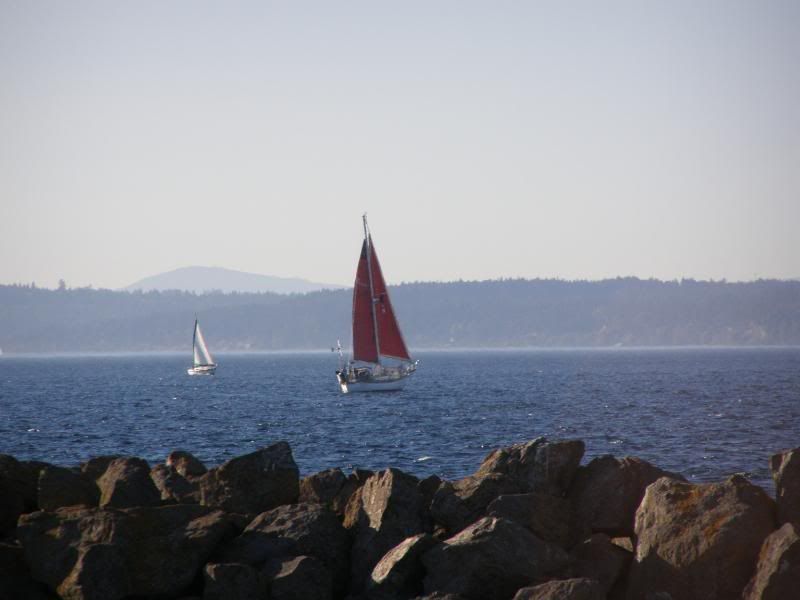 It's such a beautiful boat.
The only other thing I remember from this month was Zak's big fishing trip with my boss's husband. He took Zak & Scott out to go salmon fishing. Zak had an absolute blast and caught 2 Silvers:
We had a huge dock party and everyone knew that we were eating Zak's fish. He was so proud! It tasted amazing, too! Next time, I'm hoping I'm invited to go fishing, as well! I'm a little jealous and can't wait to do some salmon fishing myself.
Ok, I think the blog is caught up for now! Yahoo! Sorry it took so long to catch up after the summer! Best wishes to everyone!