August 2010 - San Juan Islands - Part One
Pictures from this part of the trip
So, we left from Cornet Bay in the fog and headed thru Deception Pass as a 100 year celebration was happening up above on the bridge. We had quite an audience going thru the pass. Luckily we had no problems. We passed some friends on their boat She b a Miller. Bummed we couldn't hang out with Billy and Trish, but they were headed home.
We made our way north to Echo Bay on Sucia Island. Amie and Ally aboard Peregrine were tied up in the harbor and we had dinner aboard their boat that night. The next morning we all headed out for a hike to Ewing Cove: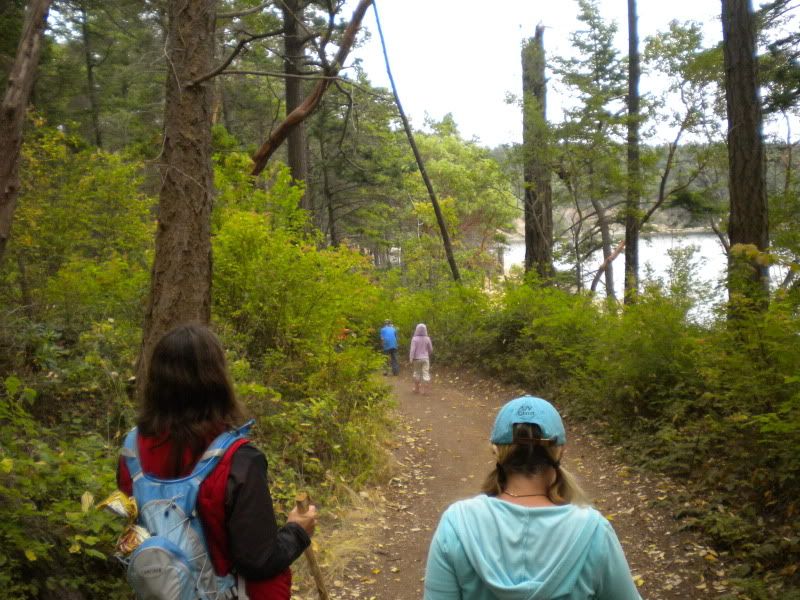 It's a great hike and we love Ewing Cove. It's where Ellie claimed her mountain 4 or 5 years ago, which officially (in our books) became "Ellie Mountain".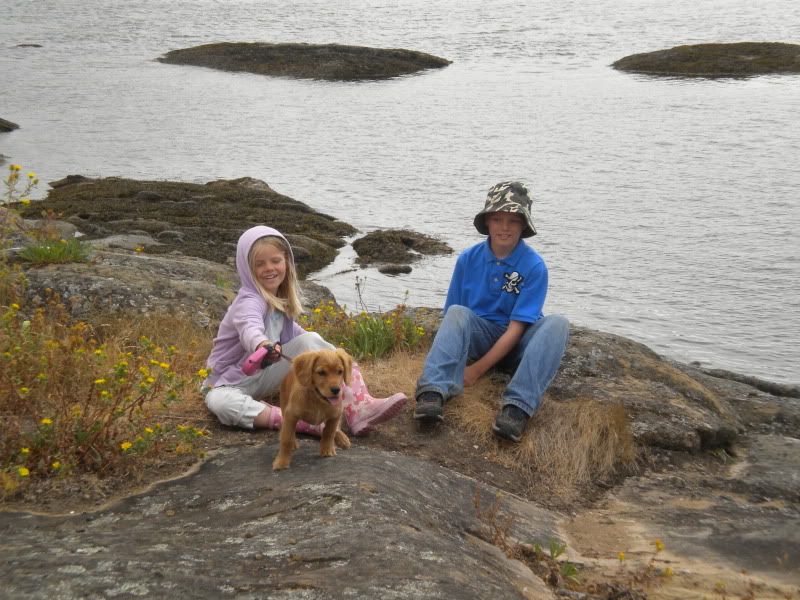 We had a great time hanging out and doing some beachcombing at Ewing Cove. Fathom has definitely started loving her beach time and except eating rocks, she does very well: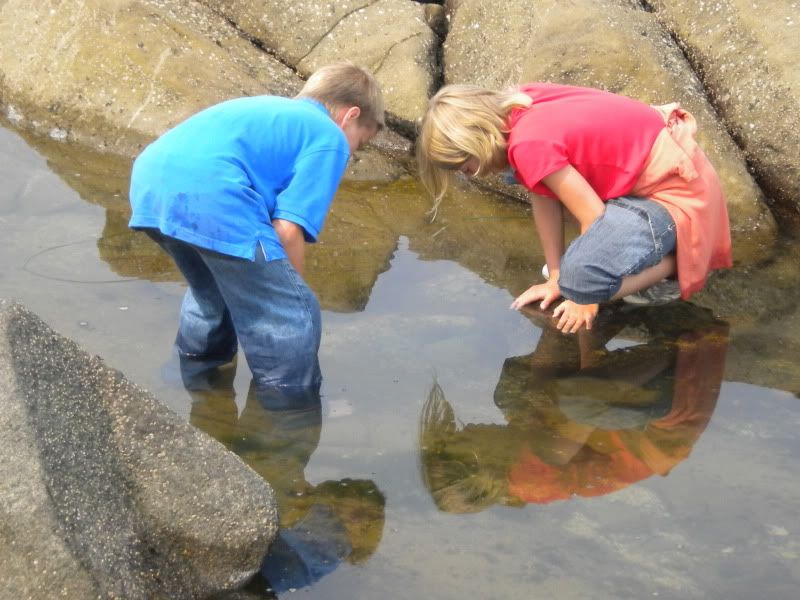 It was a good hike and Fathom was exhausted when we got back. She did so good!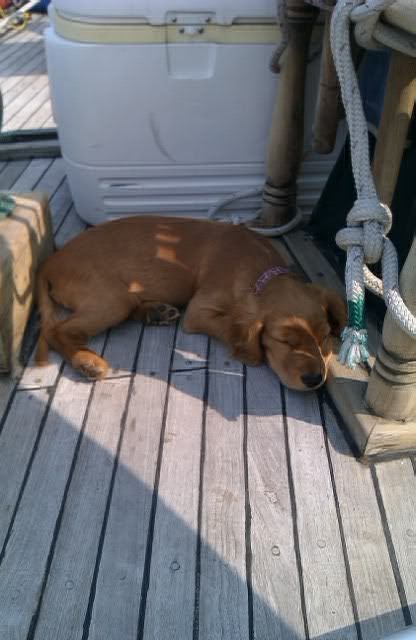 We shared dinner again with Amie and Ally and the kids explored Echo Bay with the sea kayaks. It was a great day. Really starting to feel like vacation.
The next morning Scott, the kids, and Fathom went out on a fishing expedition: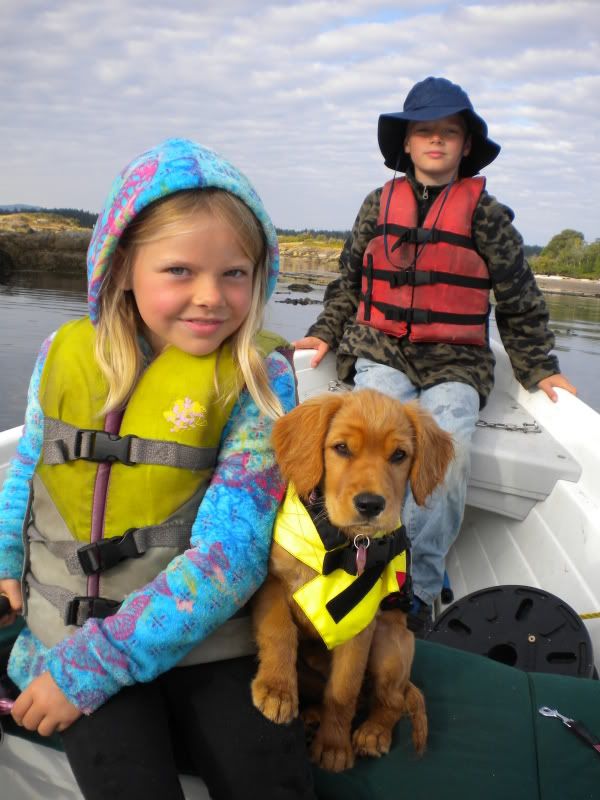 Ellie caught her first lingcod. Unfortunately they couldn't keep it because they aren't in season, but it was still fun for her to catch such a huge fish: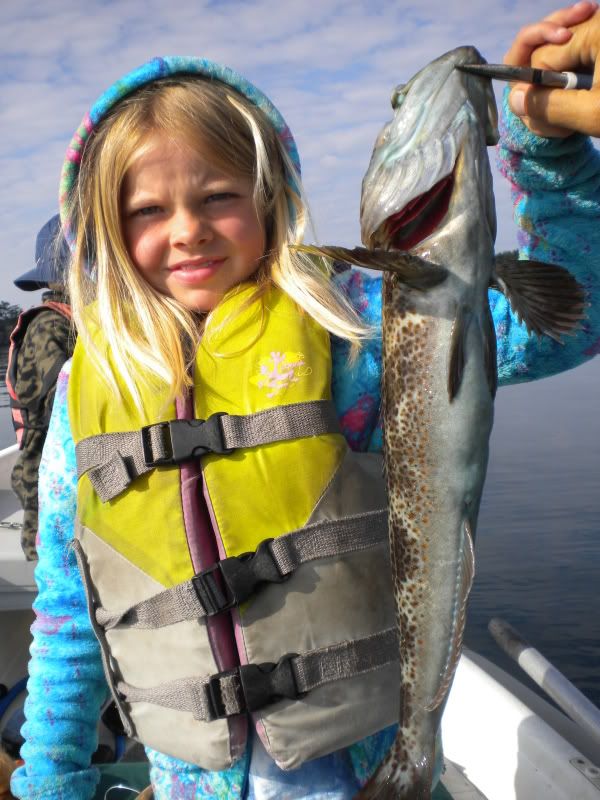 When they got back we all headed out to explore some of the many beaches around Echo Bay on a mega search of beach glass. It was a warm day and the kids had a blast playing in the water and we scored when it came to beachcombing: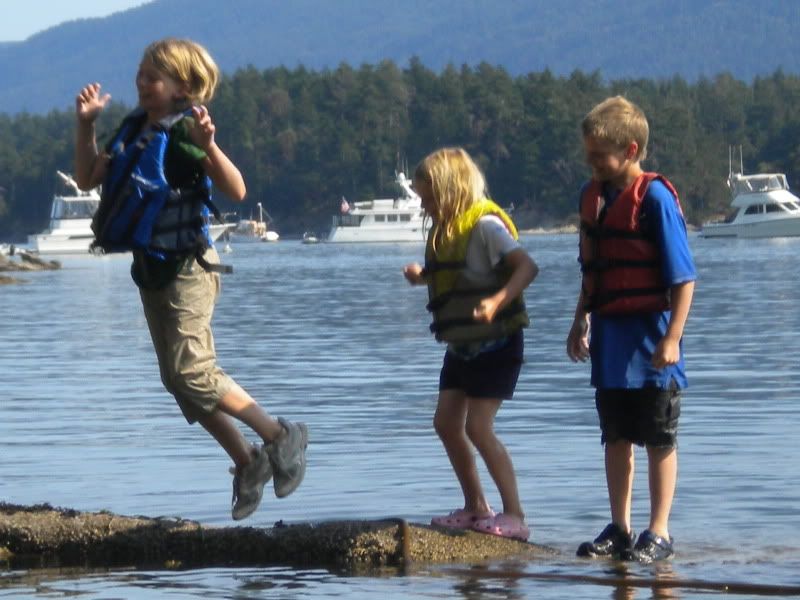 Fathom even got some more practice with swimming. From the look on her face I'm not sure if she liked it or not: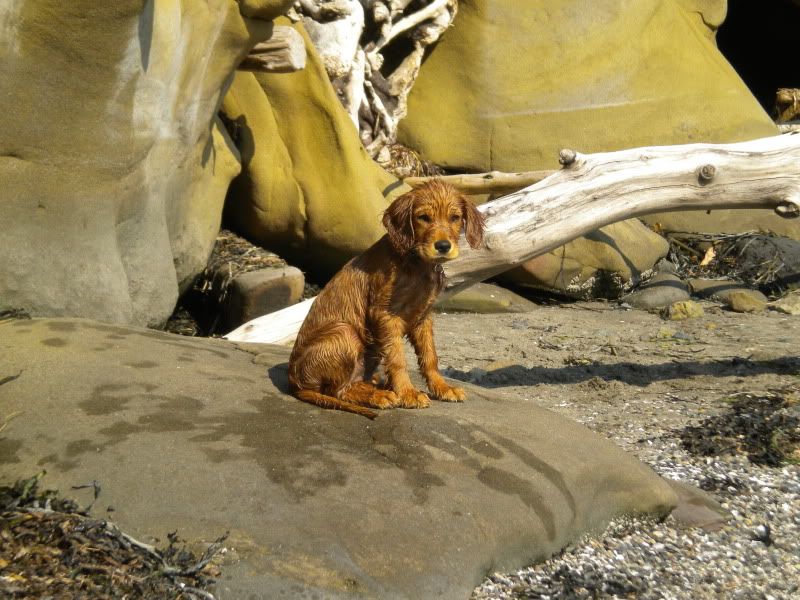 Fathom also enjoyed taking a kayak ride with me. She's going to be a great boating dog: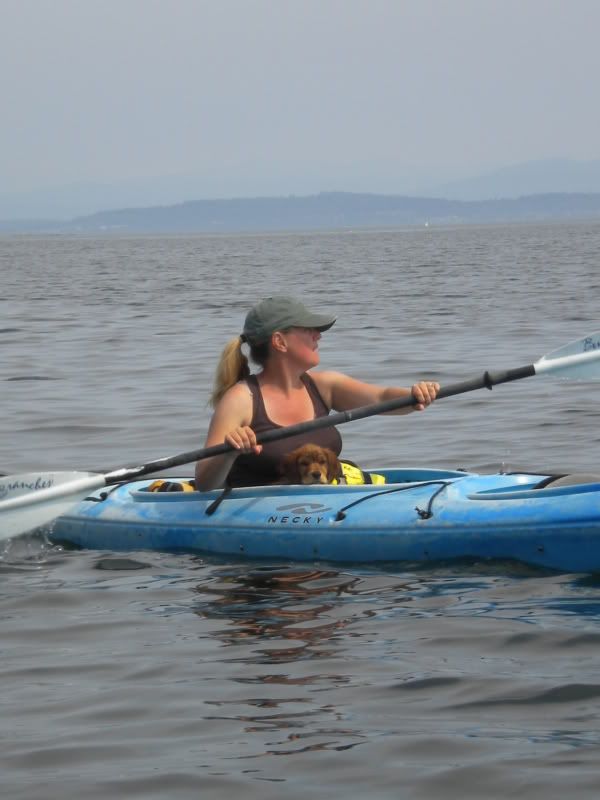 We had such a great time hanging out with Amie and Ally, but it was time to move on. We were picking up our friends in Friday Harbor in a couple days and decided to head over a day early to meet up with some other friends. Once we anchored, Scott and the kids rigged up a swing from our main boom and had a blast playing in the water: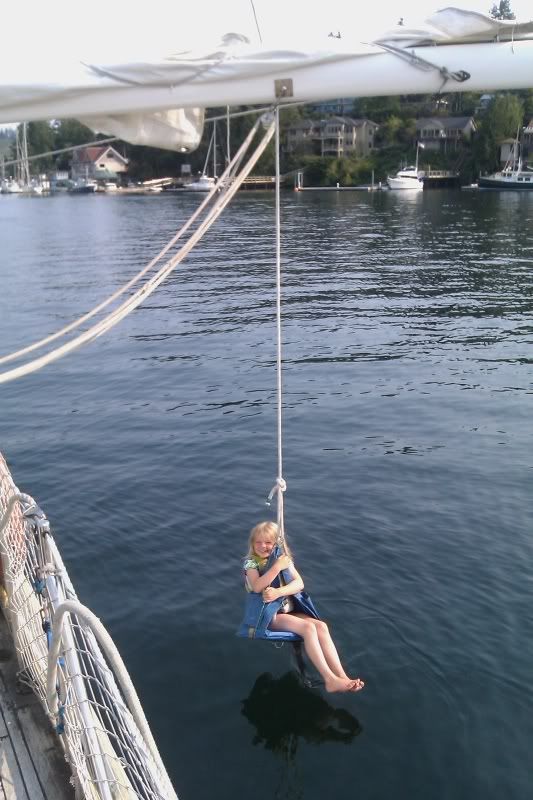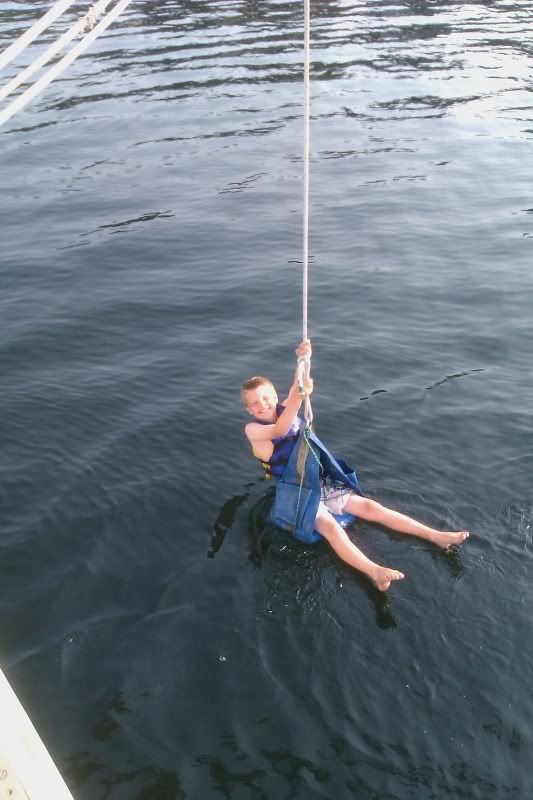 We also had a beautiful sunset that night:
The next day we headed over to the Port of Friday Harbor marina for a night at the dock. It's always fun staying in Friday Harbor and remembering the old days when we lived there. We got all our laundry done, did some reprovisioning, and tidied the boat for our guests. Our friends, Darren & Lisa and their new baby Ariana came over for dinner that night. We loved meeting Ariana, especially Ellie: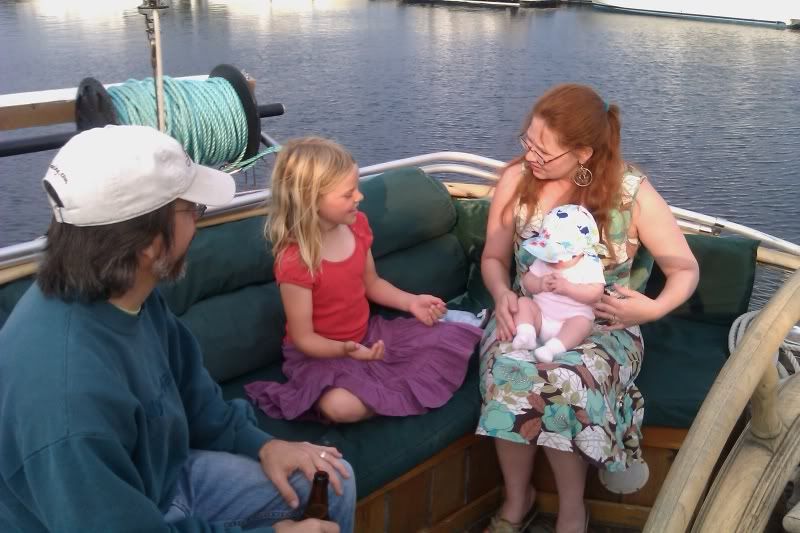 It was a great night hanging out. The next day, our friends Jim, Debbie, and Danielle were coming in to spend a little over a week with us. I'm going to add a new post for them. Just a warning.....lots of pictures are coming your way.